How Sticky Notes Can Change Your Life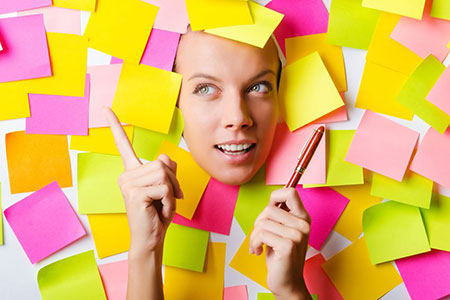 We live in a world where we are bombarded with negativity every day. Whether it comes from social media or the mainstream news, it's easy to feel like you're drowning in a sea of negative information and fear-based messages. And the more we are exposed to all this negative input, the more we internalize it, until it becomes part of our self-talk and general state of mind.
Fortunately, the solution to some of life's most complex challenges can often be found in the most mundane. Enter the simple sticky note! By writing down simple, positive affirmations or slogans on a bunch of sticky notes, and placing them anywhere you will see them frequently, you can significantly change your inner dialogue from constant negativity and nay-saying to one of possibility, hope and optimism.
Choose simple, short affirmations that resonate with who you are, and what you truly want in life. Whether it's something like, "I am worthy," or "Love surrounds me," or even, "I will get that dream job," it will inspire you to change the narrative and negative self-talk each time you read one of these short statements out loud.
This technique always reminds me of the famous opening scene of the television cartoon, The Simpsons, with Bart Simpson writing a phrase over and over on the chalkboard. There's actually some method in the madness of this old-fashioned way of disciplining schoolkids. When our brain repeats a word or phrase over and over again, new neural pathways are created with new associations. Saying something once or twice only, we're just as likely to forget it. But if it's something we repeat many times, our brain will literally change over time, and so will our patterns of thought, feeling and action.
It's been shown that establishing a new habit, or making new behavior automatic, takes on average about two months. Try placing your sticky notes in those places you spend most of your time every day: in your workspace, your car, on the bathroom mirror, the kitchen refrigerator, or on your bedside table. The more you see (and repeat) the words written on them, the more you will start to transform your thinking.
Every thought you think and every word you speak is an affirmation. All of our self-talk, our internal dialogue, is a stream of affirmations. You're using affirmations every moment, whether you know it or not. You're affirming and creating your life experiences with every word and thought ~ Louise Hay
Using sticky notes is a deceptively simple form of changing our thought patterns. The action of writing down words uses a different part of the brain, than simply speaking the words aloud. Use colors, pictures, and patterns that make you feel content, uplifted and happy. If you want to infuse the notes with essential oils, or add other personal touches, this is another way to tangibly connect the senses with the act of mindful creation. The best part is, sticky notes are inexpensive and readily accessible.
You may become so in touch with your affirmations that you eventually feel inspired to create a more elaborate vision board, or other visual display for your individual messages, combined with pictures and personal mementos. Be as creative as you like and make it all about your wants, needs, hopes, and dreams.
Affirmations are powerful. They are a form of prayer and meditation, and they have the metaphysical ability to change not just the energy vibrations around us, but also the rest of the world. When you write your next sticky note affirmation, you're helping yourself to become a more whole and authentic version of your inner being.
It may seem difficult at first, until you really start to believe what's written on your notes. And you will! Grab a package of sticky notes, your favorite pen, and start writing down the thoughts that matter. Keep it simple and see where your inner thoughts take you.

About The Author: Mystic Shelley

Mystic Shelley is a five-star psychic, Reiki healer, clairvoyant and empathic reader. She offers her clients honest answers about past, present and future events with the help of her trusted guides. She reads in the area of love, relationships, career, money and all matters of life. Mystic Shelley was born with talents that would later mark her as a gifted psychic, but she chose not to embrace them early on. In her 30's, a not-so-chance meeting with a celebrated psychic set her on a course that awakened her gifts. Born with the gifts of clairvoyance and empathy, her psychic mentor helped her to expand those abilities, taking her talents to the next level. With experience came proficiency and today she has a growing list of devoted clients who sing her praises. In addition, she's also actively assisted other psychics to open up to their abilities. If you are looking for direct and honest answers get a reading with Mystic Shelley now at PsychicAccess.com