The Haunted House From My Childhood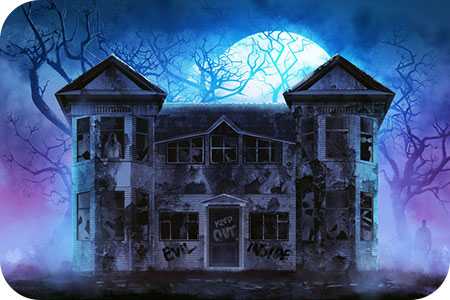 Every year, around this time, I go to the same cemetery to visit the final resting place of my childhood friend. It is located in one of the neighborhoods we would often frequent on our bicycles. It is also where we went trick-or-treating for Halloween. My return visit this year was not only nostalgic as always, but it once again reminded me how important it is to trust your gut when it comes to paranormal phenomena. We live in a cynical, digital age, where adults too easily attribute encounters with the paranormal to the overactive imagination of children, or simply disregard it as 'old wives' tales.'
Throughout our childhood years, into our early teens, my friend and I would often stop to admire an abandoned old home in that neighborhood. At the time we firmly believed to be haunted! Well, amazingly, that old house is still there after all these years. It has never been demolished, despite the rumors of what went on there. There used to be talk of a vicious, gruesome murder that took place there. A well-known antique dealer in the community used to live there, and it is said that he received a surprise visit one night from two men with baseball bats, who forcefully entered his home and killed him.
Sometimes, early in the evening, on our way back home on our bikes, we would see mysterious lights flicker inside the empty old house. We always wondered who possibly could be there? There were no curtains, nor furniture inside. At least this is what we were told, when we were cautioned not to go anywhere near the place. There were also never any cars parked outside. The neighbors would take turns to mow the lawn, to keep their street looking neat.
On my recent visit, as I was getting ready to leave the cemetery, I had the idea to drive down that street, to see the old haunted house again. Feeling nostalgic, I slowly turned the corner on the dead-end street and spotted the house right away. There was what looked like a chair, out on the front lawn, and a thick layer of fallen leaves on the grass. As I drove by, I noticed a faint light in one of the windows.
A house is never still in darkness to those who listen intently; there is a whispering in distant chambers, an unearthly hand presses the snib of the window, the latch rises… ~  J.M. Barrie
Overcome with curiosity, I decided to take a closer look. I parked in the driveway, got out and walked towards the front of the house. I then smelled burning leaves coming from behind the house, so I walked around to investigate. There I found a middle-aged woman and her husband having a little bonfire in the backyard. They were the neighbors from next door. They had been asked by the neighborhood association to keep an eye on the old house, and have agreed to take care of the upkeep of the yard. They had lived next door for years and shared with me some of the ghost stories told about the house.
Apparently, the house has been rented or purchased by new owners several times over the years, but they always move out again, almost immediately! A man who recently moved out, told them he could no longer deal with the constant banging noises at night, with cupboards and drawers constantly opening and shutting! They have had much amusement over the years with so many people moving in and out. "It's quit entertaining," she said. "It adds some excitement to our boring lives".
They have also seen the spirit of the former owner in the yard. That is why the chair is still there – he used to sit out front, and apparently still does. They have also seen lights on in the home many times, so it was definitely not my childhood imagination. The paranormal is everywhere. We only need to pay more attention.

About The Author: Moon Goddess

Moon Goddess is a third generation empathic healer and seer. She started to give healing readings to people more than 20 years ago. She has always been interested and studied all things metaphysical from a young age. Being hypersensitive she can feel and see things before they happen. Utilizing the Tarot, and with the help of her Guides, she is a source of support for many people all over the world. After he passed over, her grandfather kept his promise and came back to say goodbye and gave her the most amazing experience. Moon knows there truly is a Heaven, and it is wonderful! Sharing her experience has helped many people after they have lost someone, or anyone experiencing some form of grief. Get a reading with Moon Goddess now at PsychicAccess.com.