Reconnecting With Source In Uncertain Times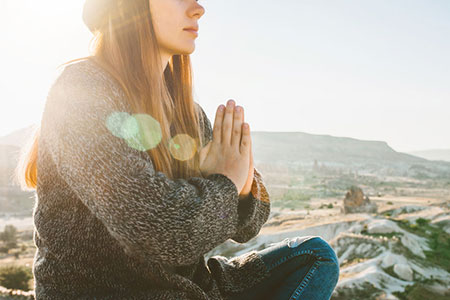 In uncertain times, it sometimes feels as though it is difficult simply to put one foot in front of the other, in order to get through each day. With so many stressors and concerns on the horizon, the hours can be consumed with worry and fear.
Although it is absolutely necessary for our survival to think ahead, plan and develop contingencies where necessary, it is also equally as important to carve out some time to meditate, dream or create, even if it is only for just a few minutes each day.
It can be truly rejuvenating to withdraw for a few moments into a serene state, where anything is possible and order prevails. If you can get out into nature to do this, all the better! If not, then use the mind's beautiful power of visualization to surround yourself with the idyllic scenery of your choosing.
To get started, practice deep breathing to calm your thinking and relax your body. Do not worry if your mind becomes distracted. Just bring your focus back to your breathing, and enjoy the environment that you have created. If you are not in the habit of daily meditation, it might seem as though your mind never remains still, but the ability to stay focused for a little longer during each session will come in time.
When you have achieved a sense of relative peace and tranquility, call on your healing Angels and Guides. Ask them to quiet your mind and heal your body. Ask them to show you the full scope of your issues and help you find the answers that will work best for you, and everyone else concerned. Ask them to guide, guard and protect your friends, family members, neighbors and co-workers, to reduce their worry and help them to make wise decisions.
Meditation is like giving a hug to ourselves, getting in touch with that awesome reality in us. while meditating we feel a deep sense of intimacy with God, a love that is inexplicable ~ Paramhamsa Yogananda
Be open to all possibilities without judgment. Allow your thoughts to flow without impediments. Let your creative energy, combined with the support of your Angels and Guides, lead you to unknown opportunities.
Do not be disappointed if the ultimate answers do not appear instantaneously. Give yourself time to commune with Spirit, and weigh the pros and cons of many options that might come your way. This is a slow, gentle and supportive process and it can seem at odds with the frenetic pace at which people race through life, with barely a minute to spare.
Give yourself the luxury of investing some precious time to reconnect with the Universe, Source, Divine Spirit, the Creator. Allow yourself to be cocooned in love and light, rather than buffeted by the turbulent activity of the outside world.
As your quiet time draws to a close, thank your Angels and Guides for their wisdom and support. Gradually come back to the here and now, resolved to maintain this peaceful condition for as long as possible, and to re-create this warm ambience on a regular basis, in order to stay grounded and true to yourself.
Look around at your world with fresh eyes, do what you can to make things better, not only for yourself, but for those you love, admire and respect, in addition to those who could use a helping hand.

About The Author: Monica

"What you think about, you bring about; what you believe, you become." This is Monica's philosophy, derived from her twenty-five years of experience as a Clairvoyant, Light Worker and Medium, living in Ontario, Canada. Monica has been a guest speaker at various Spiritualist churches, conveying Spirit greetings and messages from loved ones during Sunday services, All Mediums Nights, Healing Services, Meditation Services and special fundraising events. She's been an advisor to several international business leaders and connects with all of her clients on a level of love light and empathy. She delivers messages containing ideal outcomes and positive solutions with the help of her guides. If you'd like Monica to help shape your destiny, you can find her at PsychicAccess.com.