Our Loved Ones Are Always With Us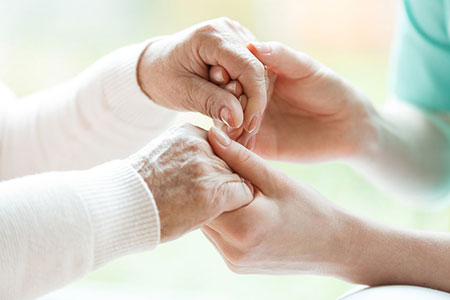 Several months ago, I found myself traveling near the city in which my grandparents bodies were laid to rest. I decided to drive the few extra miles out of my way, to visit their gravesite.
Pulling up to the cemetery, I realized I hadn't been there in so long that I couldn't remember where the grave was. Finally, I located it. I grabbed a folding chair from the back of my car and sat down under a tree close to their tombstone.
Immediately my awareness was overflowing with the presence of their voices. I could hear both of them talking to me, just like when I would go to visit them during the school holidays. It felt like they were alive again, and right there with me. I was literally hearing grandma talking to me. Just the way she did in life. It as if she was right there! I could hear my grandpa as well. It was very comforting.
They were very pleased that I took the time to come visit them. They are very much together now and happy in their new existence, after they had been separated between this life and the next for well over 15 years.
They are still with us, just in a different dimension. If you listen carefully, you may just hear them talking to you. Our loved ones, who have crossed over, continue to be with us. They love it when we take the time to communicate with them, or honor them time in some way. It shows that we love them, and still value and appreciate them.
Those we love never truly leave us. There are things that death cannot touch ~ Jack Thorne
Of course, we do not have to visit their gravesite to experience this connection. I constantly feel my grandparents around me. Very much so. I hear my grandma telling me to do this, or not to do that, in small and big ways, on a regular basis. I know she was so happy to have the time she had with us, after grandpa passed. It was just sad to see her fall apart physically as she grew older and suffered from severe osteoarthritis. My grandparents experienced a lot in their lifetime, including the Great Depression and Second World War.
I was happy to have had my grandma as long as I did. I learned a lot from her and grandpa about my heritage and the 'old country.' They taught me how to cook grandma's Italian recipes, and grandpa's favorite Hungarian dishes. I also learned about our family history.
What we have once enjoyed we can never lose; all that we deeply love becomes a part of us ~ Helen Keller
The most interesting thing I learned about my grandma's side of the family is that I inherited my psychic abilities from her mom, who was also a 'seer' Legend has it that she would sometimes dream the jackpot numbers for those who gambled and many times they won. Apparently, she was good at seeing which numbers were the lucky ones! She also made wine as a hobby, and lived quite an extraordinary life.
I am very thankful for my grandparents. They were the main source of love and nurturing for me growing up. I miss them very much, and I am happy to still be able to hear their voices so clearly. I have love knowing that they are still here with me.

About The Author: Moon Goddess

Moon Goddess is a third generation empathic healer and seer. She started to give healing readings to people more than 20 years ago. She has always been interested and studied all things metaphysical from a young age. Being hypersensitive she can feel and see things before they happen. Utilizing the Tarot, and with the help of her Guides, she is a source of support for many people all over the world. After he passed over, her grandfather kept his promise and came back to say goodbye and gave her the most amazing experience. Moon knows there truly is a Heaven, and it is wonderful! Sharing her experience has helped many people after they have lost someone, or anyone experiencing some form of grief. Get a reading with Moon Goddess now at PsychicAccess.com.


This site uses Akismet to reduce spam. Learn how your comment data is processed.