Moving Forward With Your Angels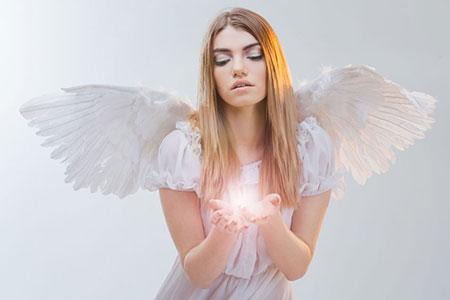 Recent world events has left us re-evaluating our lives and relationships, as if under a microscope, and contemplating whether we actually like what we see. The world we live in is changing, and anger and fear have made their presence known in powerful ways. Now is the time to choose to be part of the chaos, or part of the healing.
Angels exists to serve us individually, and collectively, in facilitating inner peace, compassion, forgiveness and self-awareness. The word angel means 'messenger.' They offer comfort, guidance and protection as we journey through life. They remind us of our possibilities, and inspire hope, peace, love and joy.
The angels also inspire respect and concern for the well-being of others, as well as ourselves. Our angels hold up a mirror for us, to see clearly what we are reflecting and sharing with our loved ones, and the world. What does not serve us, or is harmful to others, can and should be changed.
At the beginning of your day take a few minutes to be open to the guidance of the angels, and ask to be shown what needs to be changes, healed or improved within you. Instead of grabbing your phone to check your social media, or turning on the TV to witness the latest chaos, take just a few minutes to consciously state your willingness and intention to be in partnership with your angels that day.
Then, as you go about your day, remain aware and pay attention to what you observe about others and yourself that you did not notice before. Once something is seen and acknowledged it cannot be unseen. In the evening, or at the end of your day, notice what those observations or encounters have triggered in you. That is all it takes to allow the process to begin.
The more that you trust and believe in angels, the more they will pour their blessings upon you ~ Denise Linn
Your relationship with your angels is as unique as your fingerprint. Relax and allow the relationship to evolve organically. Your faith and open heart will allow you to witness changes within you, and how those changes begin to impact your life, and the lives of those around you.
For the angels, a willing spirit is all that is required for healing and growth to begin. They are here to support us in acknowledging our fear and pain, and support us in healing the past, thereby changing the future. Instead of being defensive, become open. Where anger exists, let compassion and forgiveness enter.
When angels visit us, we do not hear the rustle of wings, nor feel the feathery touch of the breast of a dove; but we know their presence by the love they create in our hearts ~ Mary Baker Eddy
With the help of the angels, we become more open, transparent in our intentions, and reap the benefits of it being reflected in our lives. Our relationships heal, and more importantly we heal. We begin to exhale, and feel safe and uplifted. Wisdom and discernment become our second nature. We begin to trust our intuition, knowing it is not based on fear, and we become more compassionate and understanding of those around us.
Your angels understand that within your heart there is a hero waiting to empowered. Whatever has happened in the past hours, days, months or years, you are here now, and you can heal and move forward. Remember you are never alone. The angels are with you now, and always. Don't miss the opportunity they offer.

About The Author: Angelic Heights

Empathic, intuitive, psychic from a very young age, Angelic Heights (Gail) learned well the importance of using her gifts for the highest good. Marriage and a career in the paralegal field occupied her until her early 30's. Accurate, compassionate and direct, her focus now is entirely on enlightening, uplifting, inspiring and guiding those who seek her counsel. Gail believes that it is as critical to understand the energy of the people we choose to be involved with. Regardless of the nature of the issue, whether it be romance, career, business, or family, the essential needs of every client always come through clearly in her readings. She is able to hone in very quickly on major concerns and deliver accurate messages and solutions to problems. Get a reading right now with her at PsychicAccess.com


This site uses Akismet to reduce spam. Learn how your comment data is processed.