Taking 'The Next Step' In A Psychic Reading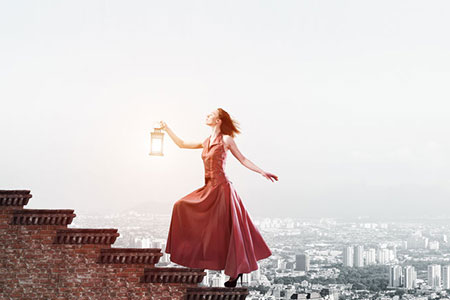 A variety of life questions can motivate someone to call a psychic or medium for a reading. It is often a situation that has arisen in a relationship, or maybe a work issue, their financial outlook, or maybe even getting some help interpreting a dream or synchronistic event. And sometimes their question is very unusual, or even unique.
Whatever the reason is that originally prompts you to call a reputable psychic for a reading, you will usually have your questions answered, or resolved. But it typically does not end there. Once the basic question has been addressed, you will usually find that spirit then opens up an invitation for deeper exploration, for you to see more clearly why this issue may have occurred and what opportunity, gift or lesson awaits you underneath the reason for the call. I call this second phase of the reading 'the next step,' and its purpose is typically spiritual guidance and personal growth.
The range of psychics, and their unique services and specialties, are endless. Psychics, mediums, intuitive, empaths, diviners, cartomancers (Tarot), spiritual life coaches, healers, channelers, and so on. And each have their unique way of seeing into your life, gaining insight into what is happening, and then offering their interpretation and guidance.
Knowing what's ahead on their path, and how to best handle it, is the biggest reason people reach out to readers! Psychics can also identify repeat patterns, as we can often see backward (retrocognition) and forward (precognition) in time, and can tell if what's occurring in your life has happened before, or if it is likely to happen again.
Each step you take reveals a new horizon. You have taken the first step today. Now, I challenge you to take another ~ Dan Poynter
You get to decide if you want to change these patterns, by taking 'the next step" in your psychic reading. When we look at this from a spiritual perspective, we are all in this life to grow and evolve as a soul. We have various windows and opportunities throughout life to look deeper into these patterns, and to gently, with the help of your favorite advisor, create more of what you want in your life. It isn't always easy and this is why it's called 'spiritual work,' but it is well worth the effort once you see the results.
Taking it to the next level involves trust and patience with yourself and the situation. When we let a little bit of spiritual Light into our lives, by quieting the mind and stepping back from the issue, we can see it from a clearer standpoint. If we call a psychic and demand simplistic answers, without taking the next step, we rob ourselves the opportunity to not only change the events of our future, but we can also stunt our personal growth and soul evolution.
It may be entertaining to ask a psychic to tell you 'what you had for breakfast that morning,' or maybe something that happened to you that day, that no one else could know. Yes, it is can be cool! But, if they don't take the next step with you in your reading, to help you move forward in your life, that reading falls by the wayside and essentially becomes meaningless. In a couple of weeks you'll be right back to where you were and nothing has changed. And then you will just have to call another psychic for more quick and easy answers!
Never look down to test the ground before taking your next step; only he who keeps his eye fixed on the far horizon will find the right road ~ Dag Hammarskjold
This is what sets the readers at Psychic Access apart. We are a team of dedicated spiritual advisors who can help you take the next step. We are here to see into your life and know what's going on that no one else could, but we do much more than that.  We can help you grow and create great change that brings you into your personal power, and sets you on your soul path in this lifetime.
When you take the next step into your own spiritual development, you may find the next time some situation creeps into your life, you will handle it much better, based on the work you did with your advisor. You may find that you handle it completely differently than you would have in the past. Not only can you change your future for the better, but you can also advance spiritually and manifest the life you wish for and deserve.
We may stop growing physically when we become adults but spiritually, we never stop growing. Just like anything else in life, with a little practice, it gets easier and the benefits become more and more profound.

About The Author: Isadora

Known as The Psychic's Psychic, since 1998, Isadora has read for thousands all over the world, her impressive list including clients from the Obama administration, Fortune 500 CEO's and notable names in Hollywood. Her detailed (Gemini) accuracy is nothing short of astounding, with her ability to see people at the Soul Level and clearly answer questions on a wide range of subjects, from relationship matters, business decisions, to past lives, etc.—anything that requires clear answers and pin-point insight. She has the ability to identify hidden patterns that run beneath your current situation, providing you with information to positively change your future. If you'd like a reading with this compassionate, straight forward, laser-accurate and dedicated Psychic, you can find Isadora at PsychicAccess.com.