Looking Within – A Message From My Guides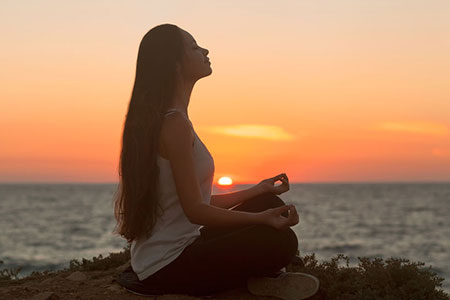 As the holiday season starts to ramp up around the world, everything becomes more and more hectic. Travel plans are made early. Gifts are purchased. Party invitations are extended. New outfits are bought. Menus are set. Baking is done. It is a wondrous time of year, to give thanks and to show appreciation to family, friends, neighbors and colleagues.
Under these circumstances, it is understandable that stress abounds too. For some people, in addition to all the excitement, there is a real feeling of obligation. The expectations of others can be overwhelming and, of course, it is impossible to please everyone. There is also the feeling that time is running too short to accomplish everything on the to-do list. Demands on your time can seem endless and unreasonable.
For others, the holiday season can be a very quiet and somewhat lonely time. Old memories can be triggered. Losses can become more heightened and a sense of sadness can prevail. In the Northern Hemisphere, the days get shorter and sometimes much colder, so sunlight isn't as prevalent to perk you up and lighten your spirit.
Whether you are run off your feet or living a more solitary lifestyle, we recommend that you make some time to look within. A daily meditation habit can do wonders to give you a sense of peace, calm and gratitude. A quiet mind at the start of your day can prepare you for the remainder of each day as it unfolds. A peaceful feeling can help you to put things into perspective so as not to worry, overreact or panic unnecessarily.
Everyone has a 'little narrator' inside their head who is constantly chatting up a storm. If this little chatterbox was a real person sitting with you in your living room or in the car, you would eventually ask him or her to stop talking for a while so that you could think, read, watch TV, listen to music, converse, drive, and so on. However, because everyone has grown quite accustomed to this little tag-along giving constant commentary throughout the day, you carry on in spite of the continual interruptions.
We need to go inward instead of outward, and learn to trust our own inner guide, preserving our identity and finding the answers from within ~ Jane Fulton Alt
If your mental roommate's dialogue has risen to a crescendo and you find yourself unfocused and bouncing from pillar to post inside, take a few minutes to breathe steadily and deeply to calm the agitation. Then you can re-prioritize to get a new handle on the chaos.
When it comes to social obligations that overwhelm you or fill you with dread, take a few minutes to go within and ask yourself why you are doing something that seems to go so much against your very nature. Set realistic goals and healthy boundaries. Understand that it is okay to say No to people and events that don't serve you well.
If you do not take care of yourself throughout this accelerated and super-charged season, you risk becoming run down and unable to keep your commitments. Therefore, prepare yourself by devoting some quiet time to look within in order to determine the best course of action for yourself. Schedule your must-do tasks to the best of your ability and build in additional time to allow for delays.
When you are feeling overwhelmed and stressed, look within for solutions. The answers are there if you will stop long enough to hear them.

About The Author: Monica

"What you think about, you bring about; what you believe, you become." This is Monica's philosophy, derived from her twenty-five years of experience as a Clairvoyant, Light Worker and Medium, living in Ontario, Canada. Monica has been a guest speaker at various Spiritualist churches, conveying Spirit greetings and messages from loved ones during Sunday services, All Mediums Nights, Healing Services, Meditation Services and special fundraising events. She's been an advisor to several international business leaders and connects with all of her clients on a level of love light and empathy. She delivers messages containing ideal outcomes and positive solutions with the help of her guides. If you'd like Monica to help shape your destiny, you can find her at PsychicAccess.com.