Extend Yourself The Grace Of Forgiveness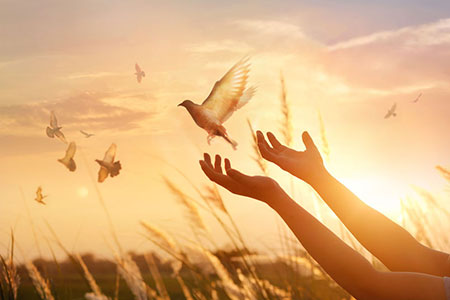 If you are an empath you may believe that forgiveness should be easy for you, or at least easier than it is for others. But I've spoken to many empaths and highly sensitive people over the years who all struggle with forgiveness.
One of the main issues with forgiveness for the empath is that we feel another's emotions intensely, literally as our own. This muddies the waters considerably, because it tends to blur boundaries. Blurred boundaries can often lead to a closed mouth for an empath. Why? Because it is difficult for us, especially in childhood or in romantic relationships, to know where we end and another begins.
It is easy for others to manipulate appropriate boundaries with an empath, or to erase them altogether. All the empath knows is that there is pain, sadness, a sense of frustration, or anger.  If you are an empath, then the question becomes are you angry with them, or yourself? Should you have been able to foresee the catastrophe happening, the relationship ending, job imploding, and so on. This leads to self-doubt and the rehashing of incidents that occurred years ago…with no resolution.
In the meantime, every time an empath thinks about the situation, past or present, we feel it…and the cycle continues.
Yes, you are empathic, intuitive, even psychic, but that does not make you immune to being human, neither does it make you all-knowing or all-seeing, especially when it comes to your own life, childhood or relationships.

Start here and now. Give yourself a break. Extend yourself a modicum of grace. A little goes a long way. Self-forgiveness is about self-kindness. Your flaws are just as big a part of your individuality as your talents, strengths, and sense of humor.
 Forgiveness is an act of self-love. When you forgive yourself, self-acceptance begins and self-love grows ~ Don Miguel Ruiz
Learn to embrace every part of yourself, both the good and the not-so-good. Understand that mistakes are an unavoidable part of life, and it's okay to make them now, in the future, and certainly in the past, which we cannot undo.
Forgiveness refers to the actor, not the act. Not to the offense, but the woundedness that must exist, or existed, in the offender. And this includes you extending that grace to yourself.
We live and learn. Revisiting the mistakes of the past, and engaging in the should-have-could-have loop, is pointless and changes nothing in the here and now. Forgiveness does more for us than anything else, because it liberates us from negativity and lets us move forward.
Feeling compassion for ourselves in no way releases us from responsibility for our actions. Rather, it releases us from the self-hatred that prevents us from responding to our life with clarity and balance ~ Tara Brach
In her article on the subject of shame and self-forgiveness, Beverly Engel explains, "If you do not forgive yourself, the shame you carry will compel you to continue to act in harmful ways toward others and yourself."
Really think about why you're holding onto the emotional pain, and what purpose it's serving. Now visualize how it would feel to be free of that pain. It won't happen overnight and it's easier said than done, but it is easier than carrying around the baggage from you past that keeps interfering with your happiness today. You may feel the weight off your shoulders immediately, or it may take some time. Go at your own pace, be patient, and be gentle with yourself.

About The Author: Angelic Heights

Empathic, intuitive, psychic from a very young age, Angelic Heights (Gail) learned well the importance of using her gifts for the highest good. Marriage and a career in the paralegal field occupied her until her early 30's. Accurate, compassionate and direct, her focus now is entirely on enlightening, uplifting, inspiring and guiding those who seek her counsel. Get a reading right now with her at PsychicAccess.com