Sometimes The Solution Is Right Before Us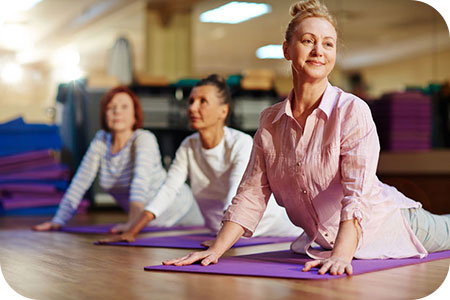 A client recently asked me why 'bad things' keep happening in her life. Why does everything seem so hopeless and nothing is fun anymore? She is constantly in pain and there is really no more joy in her life.
The first thing Spirit showed me was a vision of myself when I was in pain, then a flash of me doing Yoga and how I was no longer in pain. For me the key is to not second guess, just to share whatever I get immediately. So, I simply told this women she must start doing Yoga. "Oh my gosh, she said, "I gave up Yoga some time ago and then the pain came back. I never thought of that!"
We have to be proactive and create positive steps in creating positive outcomes. It is simply the Law of Cause and Effect. We get pain relief from doing things that make us feel good and things that are good for us. Spirit says, "If we do nothing to fix something, nothing will get fixed."
Sometimes in life we are so busy with the drama and chaos that we can't think with clarity, in order to see what we need to do. Sometimes the solution is right before us, but we don't realize it, because we are overlooking it. My client said she felt like a blindfold was lifted . Apparently she sees her old Yoga mat in her closet every day, but chose to overlook it. "Not anymore," she laughed.
I also saw her heart as the symbol of peace and told her by doing Yoga, she will bring more peace into her life. Her home will seem calmer and lighter, and her interactions with others will improve. When we feel good within, everything on the outside also seems better. We perceive things in a much more positive way.
Yoga means addition – addition of energy, strength and beauty to body, mind and soul ~ Amit Ray
When we remain faithful to ourselves when we give ourselves things that we need to feel good. Doing something so simple to improve our physical health, for example, can help us greatly in our perception of our home, families, friends, environment. It truly does create a positive domino effect.
Moving the body helps our chakras, helps our body stay in alignment, releases toxins, stress and nourishes our body on so many levels, as well as our mind and spirit. And when we feel better we are better able to connect with everything and everyone in a much more positive and peaceful way.

About The Author: Moon Goddess

Moon Goddess is a third generation empathic healer and seer. She started to give healing readings to people more than 20 years ago. She has always been interested and studied all things metaphysical from a young age. Being hypersensitive she can feel and see things before they happen. Utilizing the Tarot, and with the help of her Guides, she is a source of support for many people all over the world. After he passed over, her grandfather kept his promise and came back to say goodbye and gave her the most amazing experience. Moon knows there truly is a Heaven, and it is wonderful! Sharing her experience has helped many people after they have lost someone, or anyone experiencing some form of grief. Get a reading with Moon Goddess now at PsychicAccess.com.


This site uses Akismet to reduce spam. Learn how your comment data is processed.