An Attitude Of Gratitude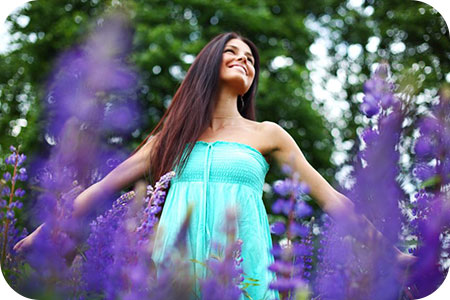 I find that people who don't appreciate what they have, often have their gifts and blessings challenged, or even lose it. And obsessing about what we don't have can lead to depression and anxiety. It certainly does not help you to attract more into your life.
So, consider shifting from thinking about what you don't have, and what you want and goals, and instead try an 'attitude of gratitude.' This is a dramatic shift. Changing from thinking about what we don't have to instead feeling grateful for what we do have, what we have been given, and what we have already achieved, changes what we attract.
This shift in thinking does not mean you can't have goals, it just means you don't feel an emptiness associated with those goals. Nothing is missing. There is just more to be gained. You already have the sundae… it doesn't need that cherry on top. A cherry would just be a nice bonus!
I've seen people become so obsessed with a timeline for getting married, for example, that they soon did get married… but to the wrong person! The universe knows your true destiny. It knows what you need and when. Try to be patient and trust the flow.
Putting 90% of your focus on feeling grateful for what you do have and 10% on what you would still like to obtain, will completely change your outlook on life, as well as your physical and emotional health.

Gratitude opens the door to the power, the wisdom, the creativity of the universe. You open the door through gratitude ~ Deepak Chopra
People who are grateful tend to attract similar people. That doesn't mean you won't also attract some 'stinkers.' They are everywhere! However, you will attract more positive people, who also feel a lot of gratitude. There is an energy attraction about an attitude of gratitude that makes you attract more abundance and prosperity.
It is very easy to look at others' lives and tell yourself that they have it better than you do. Or, to wish you had something they have. However, you really need to look at their entire life. Okay, you can have their beautiful home, but then you might also have to have their cheating husband or their migraines headaches. Would it really be worth it? Focusing on what others have, will only make you miserable and it isn't honest, unless you look at their complete life story. No one leaves this planet unscathed. I have noticed in working with people as a spiritual teacher, that competing with and comparing to others can lead to obsession, addiction and overall misery.
Gratitude, like faith, is a muscle. The more you use it, the stronger it grows, and the more power you have to use it on your behalf ~ Alan Cohen
Waking up every morning thinking about how many ways you are lucky, thinking about your friends, gifts, accomplishments and about the love you have in your life, will give even more inspiration to achieve even more and will give you more light and vitality. Going to sleep thinking about these things will also help you sleep better.
Do you want your epitaph to read, She obsessed over what she did not have? Or would you prefer, She lived in an attitude of gratitude, spreading joy wherever she went!

About The Author: Satya

Satya lives in Northern California and is a natural Clairvoyant, Empath, Conduit, teacher, author, animal lover, healer, Reiki Master and an advanced yoga instructor. She has provided valuable psychic assistance to Hollywood stars, athletes, and everyone else in-between. A multi-layered Intuitive, with many unique gifts at her disposal, she can give you a doorway into the past as well as a gateway to a happier future. With her long distance energy work, she provides healing for people and animals too! She instantly spots karmic connections from past lives that directly affect current situations, helping clients to move through them quickly. For accurate solutions on just about any pressing problem, you can find Satya at PsychicAccess.com.