Finding Justice With Archangel Raguel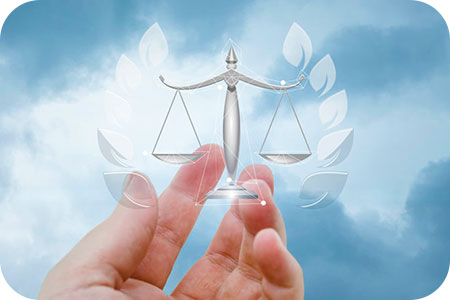 Often referred to as the Angel of Justice, the name Raguel actually means 'Friend of God.' However, Archangel Raguel is considered to be the overseer of not only justice, but also of fairness, harmony and redemption. It is his job to see that God's will is done on both Earth and in Heaven. Furthermore, he wants you to have the best earthly experience possible. Here's how to recognize when he is around.
Order In Chaos
Do you feel that your life is a little chaotic at the moment or not 'in flow?' Should this be the case, then you may well find that new ideas of how to turn chaos into calm, and thus bring a sense of order into your life, may pop into your head courtesy of Archangel Raguel himself.
Raguel is the leader of a band of angels otherwise known as The Principalities.  This group of heavenly beings are known to assist others in the creation of order in their lives. They often do so by recommending spiritual practices, such as meditation, prayer, reading religious texts, connecting with nature on a daily basis, helping those in need, and attending places of worship – all of which would help them grow closer to God. Furthermore, when necessary, they may offer this type of advice to you.
The Principality Angels particularly like to assist those who lead others, like government officials, so they know best how to serve their organization, community or country. Therefore, should you be a leader at work or in your community, Raguel will send you the inspiration and guidance, on a regular basis, to continue to be a great leader. He most often does this by implanting good ideas in your mind, or visiting you in your dreams.
Call upon Archangel Raguel to assist with this healing as he is the perfect mediator and can help bring harmony and co-operation into any situation. Ask that you see the spiritual aspect in all of your interactions with others and to bring harmony and balance back to the middle way ~ Sharon Taphorn
Inner Strength In Unjust Situations
Should you be fighting any form of injustice, and then feel yourself encouraged with an unexpected surge of inner strength, the source of this power boost is more than likely Archangel Raguel himself, to help you in your cause. Furthermore, should you suddenly feel that solutions to unjust situations spontaneously come to you, more often than not this will be Raguel at work on your behalf.
Do you feel that your prayers are not being answered? Should this be so, then you very much need to put your case to Raguel, as it is he who is the final decision maker when it comes to the best action for dealing with injustice.
For example, should you be the victim of slander, gossip, or dishonesty, then Archangel Raguel will make you aware of this and empower you to deal with it. One of the ways that Raguel may decide to assist you is by helping you to channel your anger and so deal with unjust situations in more constructive ways. He is also extremely good at helping one overcome any sense of apathy and will assist you in becoming more motivated to take appropriate action.
As Raguel deals with worldly injustice, including poverty, crime, human rights and the environment itself, he may prompt you, when the time is right, to play your part in helping to bring justice into the world, thus making it a better place to live for all.
Relationship Repair
Do you feel the need for assistance in repairing your estranged or damaged relationship? If so, then Raguel is the Archangel you need to be praying to. It does not need to necessarily be a romantic relationship. Raguel can also help to return harmony to friendships, business relationships, and families who may have fallen out with their loved ones. He may choose to do this in a variety of ways, such as by recurring intuitive thoughts, or repetitive signs and visions that lead the way to building a healthier relationship.
Raguel may lead you to get involved in certain causes to become a force for justice in the world, doing your part to help make it a better place ~ Whitney Hopler
Please consider this delightful prayer to Archangel Raguel if it is justice you are seeking. Like all of God's Angels, Raguel will hear you, whatever you need to say to him, providing you speak from the heart.

Dear Archangel Raguel, you are the Angel of Harmony and Justice whom I am calling upon today to help bring about both truth and harmony in my own life and the lives of others.
Please assist me to diffuse my anger and channel it in constructive rather than negative ways, that would only lead to further problems. Grant me the wisdom to use my anger productively so that I can overcome any type of injustice that is in my way. Also, allow me the ability to help others do the same.
Assist me to remain empowered so that I may gain due respect from other people while showing them the respect they too deserve.
Please help me in the process of overcoming problems, amicably, with friends, colleagues and family members and indeed anyone I may interact with on a daily basis.
Grant me the motivation and empowerment to solve issues such as harassment, slander, gossip, maliciousness and dishonesty in those that I know.
Please lead me towards the right causes I may join so that I can play my part in creating justice in the world.
As leader of the Principalities Angels, assist me, please, in the process of creating order from chaos. Furthermore, kindly help me to cultivate healthy daily habits, such as regular prayer, which will bring me closer to God and by doing so make the world a better place for both myself and others to live in.
Amen.

About The Author: Lucinda

Lucinda is a highly trained Intuitive and Empath, living in a beautiful village in North Yorkshire, England. She possesses the rare gift of understanding a client's personal pain and has been through many challenges, herself, which has only made her stronger! It is both her calling and her happiness to help those in need. And whenever she needs a little help herself, her Guides are always there to assist in her development and provide clear interpretations for her clients. Prediction has always been a great tool she could count on to accurately foretell events, but Lucinda also draws on her expertise with Dream Interpretation, Numerology, Angel Cards, Law of Attraction and Life Coaching to provide full and detailed solutions to any problem. A member of AMORC and Beyond Freedom Evolution, she provides inspiration, education and personal support for spiritual development. If you'd like answers or want to attract your desires, you can find Lucinda at PsychicAccess.com.