When Your Inner Guidance Loses Direction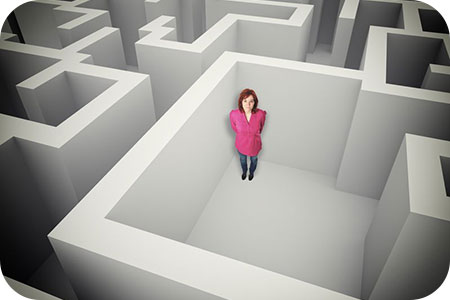 No matter where you are in life, you are never without direction. Within each of us dwells a special voice that serves as a compass. This instrument of higher direction is always poised to guide us, especially when we need it the most.
Some call this inner guidance intuition or a sixth sense. It has been written about in the sacred texts of multiple faith traditions, and is often described as a special gift that some are born with or develop through life, when one's belief in the celestial realm is augmented by a deep faith. For some this gift is also said to be cultivated over time through diligent metaphysical practice and study.
Whatever the origin is for intuition, we can affirm that this manifestation is a gift from a realm of higher consciousness that is accessible in the here and now. We can also rejoice in knowing that each of us has a capacity to tap into this amazing ability to guide ourselves, and each other.
From a very early age, I knew that I had a special and unique ability to see the future in the present moment. I could look at individuals and see their strengths and challenges. I knew when danger was approaching and took every precaution to avoid situations that could bring harm to me. In retrospect, I avoided many pitfalls and encounters that were in opposition to my highest good as a result of closely following my inner voice or intuition. Contrarily, when I failed to listen, I often faced a consequence that came at a high price… and with a lot of regret.
The intellect works best in service to our intuition, our inner guidance, soul, God or higher power ~ Christiane Northrup
I have also experienced moments in life when I felt I had lost direction. Sometimes my emotions got the best of me, especially following a heated debate with a loved one, or after losing what I thought was my best professional gig, or at the end of a very long week when nothing seemed to be going my way. We have all experienced these scenarios; a tough breakup, an unexpected loss, financial woes, indecisiveness about a move or a job change. We could fill a list with many reasons for having our worlds turned upside down. We could cry rivers over the fallout from these stressful occurrences. Truth be told, we could all have a global 'pity party,' because at some point in time everyone in the world has experienced an unforeseen personal event, and lost their direction as a result.
So, the million dollar question is how do we rise from obstacles and gain direction again, to move our lives forward to embrace our personal best? My time-tested solution, right next to prayer, is learning to sit in stillness and listen to my intuition for guidance. Some of my best decisions have been made in this manner.
It is the set of the sails, not the direction of the wind that determines which way we will go ~ Jim Rohn
But for those times in my life when even my own inner voice seemed drowned by the chatter of the world, I sought guidance from a fellow seer or spiritual counselor. With the help of a psychic reading I was quickly able to get back on course with my life. I am deeply thankful to Spirit for providing me with those answers when I needed them the most. I am appreciative beyond words for the gifts bestowed upon the unique spiritual advisors I have been blessed to encounter.
My most sincere prayer is to also be a conduit of love and guidance for others who may be lost, or simply in doubt about which direction to take on this most amazing road called 'Life.' I aim to be a beacon of light and hope to others, just as others have served my highest good when I needed it the most.
If you are in need of guidance, please know that a message from Spirit is just a phone call away.

About The Author: Shawna

Shawna lives in the American Southwest and is a third generation Spiritualist and Clairvoyant. She recognized her own gifts at a young age, fully embracing her calling as a Clairvoyant, Medium, Spiritual Astrologer, Tarot Reader, Aura Reader, Water Reader, and Healer, training under the tutelage of some truly gifted mentors. Shawna utilizes her natural psychic gifts to help individuals navigate through personal challenges and discover the higher manifestations of their life paths. She's provided positive, spiritually responsible, and ethical readings in-person, over the phone, and online, and has read for clients in Los Angeles--at psychic fairs--and at the Crystal Gaze Spiritual Center, in Lakeland, FL. She is also a trained practitioner in Clinical Herbalism (University of New Mexico), Ayurveda Medicine (San Diego College of Ayurveda), and Reiki. Shawna has channeled messages for political leaders, celebrities, and has accurately predicted the outcome of national campaigns, as well as a big career opportunity for a talented actor that resulted in a Tony Award! If you'd like an enlightening and empowering, full-spectrum of guidance, you can find Shawna at PsychicAccess.com.


This site uses Akismet to reduce spam. Learn how your comment data is processed.