Winter May Come, But Spring Will Always Follow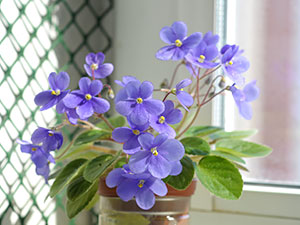 The delicate African Violets on my window sill are beautiful this season. The window is the best place for them, as each one soaks up the sunlight from the East. The Sun smiles on them this morning.
The key thing with violets that many people don't realize is that we hurt them the most by over-watering. Water is a good thing for plants, right? Violets, however, are native to the tropics where heat, sun, and a dry atmosphere is more prevalent.
The unique needs of these violets teaches us how to follow our own path. This is the true beauty of nature. See, each of us is different. When we look around us, we can't follow someone else's path, or be jealous, or worried that the path they are following is different from our own.
My breathe would catch at the sight of violets-so common in the woods at home, so surprising in the mountains. The violet's message was "Keep up your courage, stay true to what you believe in" ~ Jessica Stern
We talk much about forgiving others, seldom forgiving ourselves. Many of us also remain angry at the very gods, the very universe, the very nature, the very path we are set on. We do not forgive, forget or let go.
We do not always recognize that long before our birth a path was set for us. I have often struggled in past years. At one point I was telling God, this is too hard. Why me?
"Why not you? " he replied. "You are trusted to do the right thing."
Oh, yuck! This talk makes one want to stick a finger in your mouth, pretending to regurgitate. Yet, the above statement is the truth. Only when we become thankful for our path, can we find the peace we long for in our hearts. Only in forgiving the very Most High that has placed us on this particular path, at this particular moment, to keep striving to this particular goal, this particular dream, can we be happy.
It reminds me of song The Impossible Dream (The Quest) from the musical Man of La Mancha: "To dream the impossible dream, to fight the unbeatable foe, to bear the unbearable sorrow, to run where the brave dare not."
Your time has come, now hasten little snowflakes, to vanish quite away; the spring-tide hours are sounding gentle warnings forbidding you to stay ~ M. E. Hathaway
Weather has not recently always been so loving here where I live, as the cold northern winds, the snows, and the ice cut through to my bones like a sharp knife. Yet, here again the sun is now bright, the days are becoming warm. Green tiny sprouts of Spring has been popping up everywhere. Yesterday, I saw a real, pretty big Robin reminding me that no matter how bad the days of Winter may become, Spring will always follow.
So, no matter how hard and difficult your day may be, healing will always grow out from underneath the pain. So, let's always hope for warmer, better days to enlightening our hearts and souls.

About The Author: Mariella

Mariella is a New York resident, born in Italy, who began accurately reading at the age of eleven with just an ordinary deck of playing cards. She's since designed her own deck of oracle cards using a combination of Tarot, old-fashioned Neapolitan cards, and Angel oracles cards. She also developed a unique time board to use in her readings that provides clients with startlingly accurate time frames for her predictions. Deep faith, integrity, and warmth are her trademarks. She deeply believes that even the darkest situation holds light and hope, no matter how difficult or unclear the problem may be. She reveals and delivers spirit guidance with sincere love and a deep compassion for every soul who comes to her for lasting solutions to their problems. For a reading with this warm, funny, and highly detailed Clairvoyant and Empath, you can find Mariella at PsychicAccess.com.