For The Love Of William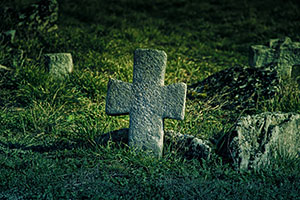 Some time ago a friend asked me to come to her parents' house, because they felt their home in Kirkersville, Ohio, may be haunted. The property and area has a rich history going back to the early settlers, and it even served as a battlefield during the Civil War. I have been to this house before to investigate a possible haunting, but this time around there was a different type of energy present. She was female, and she was in distress.
Every time I do a ghost hunt in a house, I talk to the occupants first to see what was possibly going on and how long they have been experiencing the disturbances. It appeared in this case that the trouble started when they broke ground for a new house they were planning to build.
My friend's father revealed he uncovered a grave marker at the site that had the initials WM on it. I sensed that the grave belonged to a man by the name of "William". He had wrapped it up in some newspaper, put in a box and stored in the garage. It was clear to me that this find was a part of the problem.
Death leaves a heartache no one can heal, love leaves a memory no one can steal (from an Irish headstone) ~ Richard Puz
It became a long day working on finding answers. The family also showed me some paperwork on the founder of Kirkersville. Mr Kirkers bought the land for $2,300 before others started to settle here. We also looked at what was in the area and we found there were two school houses in the past. I sensed that a female energy I picked up in the house must have been a school teacher. The tombstone nearby belonged to a man she loved.
I ask my friends to put the tomb stone back where they had found it, but to do it in a way that William is not forgotten. His memory needed to be honored in some way, maybe by placing some rocks around the stone with flowers. The female spirit needed to know that William would not be forgotten.
And so one more paranormal problem was solved in this area, but I know my job is not done yet. There is lot of history on that land and the dense energy there will most likely deliver the need for further paranormal investigations in future.

About The Author: Raymond

Growing up on the streets of Columbus Ohio, Raymond learned at a very young age that he was gifted in many ways, including the ability to read someone's eyes and using a regular deck of playing cards to read the future! His mother was from a Native American family, namely the Black Foot tribe, and his father was German. Raymond discovered that both sides of his family had a psychic legacy. Over the years he has gained additional knowledge from books and by talking to trusted family members. Raymond has been doing psychic reading for others for over 3 decades, and over the years he gained many loyal clients from all walks of life. Visit Raymond for a reading at PsychicAccess.com