The Psychic Well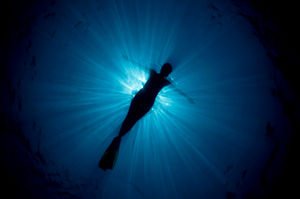 The Psychic Well is where I go, or where I am sent to, every time I do a reading. I also go there when I do Reiki, when I write an article, or when I write a poem. The Psychic Well runs deeper than you may ever believe, and I include myself in that concept, because of what happens each time I go there.
As a Tarot card reader using Numerology, Astrology, auras and deep intuition, there are always days you don't think you have any wisdom left to share. You feel as if you have no more empathy with which to feel another's pain, because just as with any profession, you can suffer burnout.
Psychic burnout can be crippling for a healer, psychic reader or spiritualist medium. You can become almost paralyzed by it. You want to work, because it's what you are meant to do. You want to write, because that's all you know how to do. But you are unable to do either. The Psychic Well beckons you, but you have no energy to make it there.
You never miss the water till the well has run dry ~ Irish Proverb
The only way to make it out of spiritual burnout is to force yourself to stand up, push yourself to do what you love to do, and somehow find a way to eliminate the personal baggage that is blocking you. In instances like these you must ask to have the path to The Psychic Well cleared for you. Remember it is all about the journey, and not the destination.
Once you have cleared your blocks, you become refilled with the waters of The Psychic Well. And you will be constantly replenished, because the more you dip your mind, your being, your essence into its waters, the stronger you will feel to fulfill your calling. And the deeper you dare to dip into The Well, the more depth you will attain in your work.
The answers found within the sacred walls of The Psychic Well are resonating truths. Things that touch the core of your being. Truths that in turn clear your own path. It will empower you to trust The Well and yourself in the process, which is what all life is really about anyway.

About The Author: Asherah

Asherah is a natural born psychic empath born and raised in Kingston Jamaica. An ordained Reverend and High Priestess, Asherah can easily tap into your real truth and help you to see clearly, releasing attachment to outcome by simply focusing on where you are now. Using tarot, numerology astrology and more..you can learn how to communicate your needs today! You can get a psychic reading from Asherah at PsychicAccess.com.