Our Haunted House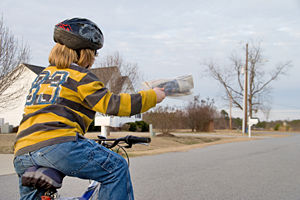 Anyone who grew up in a haunted house knows the things that can happen to a family in such a place.
I can remember the time when my brother John had a paper route, for which he had to get up early in the morning to deliver the newspaper. How my brother talked me into helping him on this particular Saturday I can no longer remember. But what happened that day will remain engraved in my memory.
It was a spring day and my brother went onto our front porch to get the papers. The milkman was also making his way up the steps, to bring my family's daily delivery of fresh dairy. I figured, since I was up anyway, why not hit Mr. Milkman up for some chocolate milk… and put it on my mom and dad's tab.
All houses are haunted. All persons are haunted. Throngs of spirits follow us everywhere. We are never alone. ~ Barney Sarecky
Well, as I was making my way to the front door, I felt like something was trying to block my way. I felt some kind of 'breath' in my ear. I looked around the living room to see if my brother opened the windows, before he went out and got the newspapers. Nothing was open and I shook it off as just my imagination.
Later that day I wanted to try to get some sleep when I got back to my parents house. After a long day of delivering the morning newspaper I was really tired. It seemed like the long walk back to my parents' house, with the empty newspaper bag, took forever. I went up stairs to try to get some sleep and finally dozed off… but then I felt like something was pulling on the covers! At first I thought it was my dog, Pat. Something was pulling on the covers again and I yelled at the dog to stop.
When I finally looked to see what the dog doing, I discovered he was not there! I jumped out of my bed and ran down the stairs as fast as I could, without missing a step, screaming for my mom and dad. My dad came running into the living room, asking what had happened. I told him before delivering the newspaper that morning that something was breathing in my ear, and that just now something was pulling on my cover. He told me that it I must have been dreaming or imaging things.
But my father soon came to see things differently. In time we had many other things that had happen in that house – not only to me, but also my father and the rest of my family. Living in a haunted house is no joke, but I have come to understand that hauntings have a purpose. Not only did they wanted my attention, but they were trying to tell me something.

About The Author: Raymond

Growing up on the streets of Columbus Ohio, Raymond learned at a very young age that he was gifted in many ways, including the ability to read someone's eyes and using a regular deck of playing cards to read the future! His mother was from a Native American family, namely the Black Foot tribe, and his father was German. Raymond discovered that both sides of his family had a psychic legacy. Over the years he has gained additional knowledge from books and by talking to trusted family members. Raymond has been doing psychic reading for others for over 3 decades, and over the years he gained many loyal clients from all walks of life. Visit Raymond for a reading at PsychicAccess.com