holi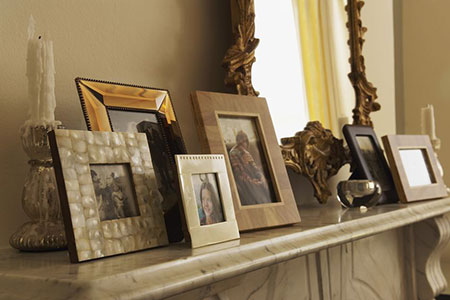 I have a remembrance table in my home where I display framed pictures of my grandparents, as well as some of the possessions they passed on to me. My eclectic collection also includes a few candles, angel figurines, some essential oils, Grandma's favorite perfume, grandpa's favorite cologne, as well as two trees on either side of the table, which I always decorate for the holidays.
My grandparents really enjoyed the holidays. They especially celebrated Halloween and Christmas, their two favorite holidays of the year. The other holidays were also a great time to be at their house, but Halloween and Christmas were always the best!
I believe having a remembrance table, or ancestor altar, really helps to connect us with our loved ones, after they've crossed over. I personally don't worship my ancestors, but I do honor them. You don't just have to make a remembrance table at a loved one's funeral, or at weddings or family gatherings. You can make it a permanent part of your home decor, and have it there all year long.
I love the idea of the remembrance table because a funeral should not be the only time you celebrate the life of a deceased loved one. It's a great way to honor them and the wonderful memories you have to create with them when they were alive.
I've put special photographs from different times in their life that were especially joyous and memorable. Family was everything to them, so many of the pictures also include other relatives, such as uncles and their other grandchildren.