Memorialize Loved Ones With A Remembrance Table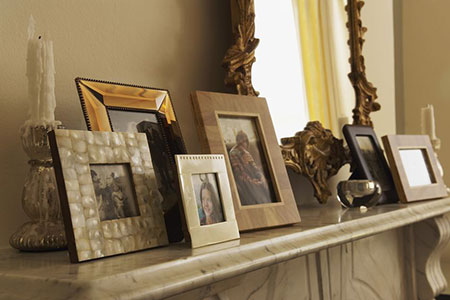 I have a remembrance table in my home where I display framed pictures of my grandparents, as well as some of the possessions they passed on to me. My eclectic collection also includes a few candles, angel figurines, some essential oils, Grandma's favorite perfume, grandpa's favorite cologne, as well as two trees on either side of the table, which I always decorate for the holidays.
My grandparents really enjoyed the holidays. They especially celebrated Halloween and Christmas, their two favorite holidays of the year. The other holidays were also a great time to be at their house, but Halloween and Christmas were always the best!
I believe having a remembrance table, or ancestor altar, really helps to connect us with our loved ones, after they've crossed over. I personally don't worship my ancestors, but I do honor them. You don't just have to make a remembrance table at a loved one's funeral, or at weddings or family gatherings. You can make it a permanent part of your home decor, and have it there all year long.
I love the idea of the remembrance table because a funeral should not be the only time you celebrate the life of a deceased loved one. It's a great way to honor them and the wonderful memories you have to create with them when they were alive.
I've put special photographs from different times in their life that were especially joyous and memorable. Family was everything to them, so many of the pictures also include other relatives, such as uncles and their other grandchildren.
The life of a soul on earth lasts beyond departure. You will always feel that life touching yours, that voice speaking to you ~ Angelo Patri
I have read that one should knock three times on a remembrance table, say their names and say hello. I often do this, as it feels meaningful to me. I've also learned that you can ask your ancestors for protection, which I also do. My grandparents were very protective and always highly concerned with our well-being when they were in this life, so I have no doubt that they wouldn't jump at the chance to protect us, if asked.
Sometimes, I like to sit down with a meal at the table, and maybe even create a little plate of food for them, when I'm feeling ambitious. I will then enjoy my food and talk to them as if they're both right there, because I believe their spirits are still with me.
I also enjoy sitting down at the remembrance table when other family members visit, just looking over all of the things on the table. It always triggers such wonderful memories and conversations about the old days.
The table was also very helpful in the grieving process. Whenever I sat down in front of my remembrance table, I always dream of a grandma and grandpa that night. They come and visit with me, to give comfort and to let me know they appreciate the fact that I took the time to memorialize them in this way.
There is no death, daughter. People die only when we forget them, my mother explained shortly before she left me. If you can remember me, I will be with you always ~ Isabel Allende
Some people believe that you should just let the dearly departed rest in peace, but I know they are resting in peace and my having a memory table for them doesn't disturb them in any way, shape, or for. If anything, it brings joy to their souls in the afterlife.
Memorializing those who have passed can help to bring healing to those who love them. It brings comfort and peace of mind knowing that your relatives are with you, until you can be with them again on the same vibrational frequency.

About The Author: Moon Goddess

Moon Goddess is a third generation empathic healer and seer. She started to give healing readings to people more than 20 years ago. She has always been interested and studied all things metaphysical from a young age. Being hypersensitive she can feel and see things before they happen. Utilizing the Tarot, and with the help of her Guides, she is a source of support for many people all over the world. After he passed over, her grandfather kept his promise and came back to say goodbye and gave her the most amazing experience. Moon knows there truly is a Heaven, and it is wonderful! Sharing her experience has helped many people after they have lost someone, or anyone experiencing some form of grief. Get a reading with Moon Goddess now at PsychicAccess.com.