Clairvoyance Is Spirit Speaking In Symbols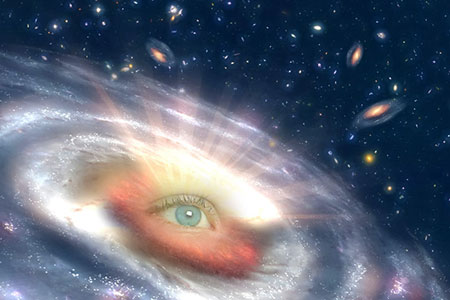 I divide psychic ability into three categories of experiences, namely clairvoyance or 'soul-seeing', clairaudience or 'soul-hearing' and clairsentience or 'soul-sensing'. All three come under the heading of mental mediumship.
There are few psychics that possess all three these abilities and they are indeed fortunate when they are equally able to see, hear and sense the spirit people.
Clairvoyance is the ability to see the faces and forms of the spirit people, and to see names, dates and other information 'written out' in the ether, and also to see mental visions and symbols which may be woven into a spirit message. The American Psychological Association (APA) defines it as the ability to see things beyond the normal range of sight, such as distant or hidden objects or events in the past or future.
As one develops clairvoyantly, you usually find that your guides use symbols to mean certain things, sort of like a 'spiritual shorthand.' As a rule, these pictures or symbols are just meant for the medium and not to be given out.
The psychic having learned the meaning from the guide is ready to symbolize the picture and give its meaning in her message.  For instance, a psychic medium sees a beautiful field of green grass with the sun shining through it. To her it usually symbolizes 'success'. Instead of giving a long, drawn out description of the scene, she would then simply say, "I see success in regard to your present problem."
Seeing within changes one's outer vision ~ Joseph Chilton Pearce
Sometimes a clairvoyant message is given regarding a certain event that is to happen in our lives, and because it does not come true at exactly the time the medium predicted, you may feel that you have been misled. However, make allowances for these things and remember that the spirit people do not judge time and space by our standards. Time is eternal and space is not limited by matter.

About The Author: Mountain Sage

For thirty-six years, Mountain Sage has been providing her much sought after insight, coaching and spiritual counseling to clients locally, as well as internationally. Many other psychics, spiritual counselors and healers, professionals, celebrities, and individuals of all backgrounds, have relied on her gifts to find their way through muddled times. Mountain Sage is the student of an exalted Gurugi in Bombay, and Shaman of the Fireheart Sweat Lodge in Santa Fe, New Mexico. Her extensive training includes Oracle, Healing, Universal Laws & Principles, the Sacred Circle and Psychic Shielding. She specializes in Ascended Masters, Altars, and Minerals. She holds the great honor of Oracle Carrier by her tribe due to her outstanding psychic ability, passion for the psychic realm, integrity and sacred work. She blends mystical understanding with practical application, and her art is connecting with the Divine. Get a psychic reading with Mountain Sage at PsychicAccess.com.


This site uses Akismet to reduce spam. Learn how your comment data is processed.