Astrology Forecast April 5 – 11, 2021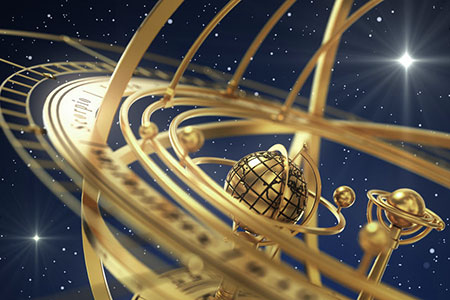 The Sun will be moving through creative Aries this week, inspiring our hearts and minds and giving us a glance into the possibilities for the future. We can also expect an easy-going and smooth-flowing week ahead, as the Moon touches base with many of the planets and tones down any conflict or worries.
An upbeat mood is sure to surround us as the Moon saunters through Aquarius the first three days of this week, emanating friendship, cooperation, and joy. But instead of engaging in frivolous social activities, today's Lunar energy could be channeled into more meaningful social interaction with those In our circle who need it most. The cool thing to do today would be to reach out to someone you know who may be in need of some social support and friendship. Unconditional love is also a gift of this Moon, making it easy for us to embrace the differences, as well as the similarities of all who cross our paths.
The Pisces Moon on Thursday and Friday evokes our spiritual side, evoking a sense of being one with the Universe. Beware however the Pisces Moon Square Mars in Gemini on Friday. This planetary aspect could cause conflict, moodiness and even unexpected temper tantrums. Avoid getting into unnecessary arguments with your partner or spouse. To resolve differences or speak your mind, wait for the Aries Moon Sextile Mars in Gemini on Sunday, when there will be an air of greater openness and honesty to discuss unfinished business.
The rest of the weekend unfolds under an Aries Moon, culminating in a new Moon on Sunday. This is a great time to reconnect with loved ones, dive into something creative, or simply practice the art of being.

About The Author: Susyn

Susyn lives in New Mexico, and offers Psychic Guidance, Astrological Insights and Channeled Messages that will change your life! Her credentials are top-notch and include a doctorate in metaphysical studies and certifications from The American Association of Professional Psychics and The American Tarot Guild. She's also a published author, with two metaphysical books under her belt, and has authored numerous articles and horoscope columns. In addition to her readings, Susyn is also a mentoring practitioner who teaches others how to master their own gifts, raise their vibrations, and empower themselves. A sought after guest on numerous radio programs, she has also hosted her own radio show. If you're looking for one of the truly bright shining stars who can also read them with an accuracy that will astound, look no further. You can find Susyn at PsychicAccess.com.