A Mediumship Experience Unlike Any Other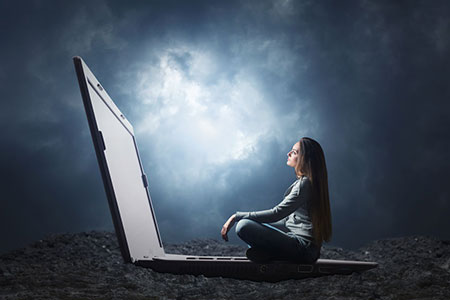 A few nights ago I could not sleep. When I go full speed into doing readings I hold nothing back, and very often long after I am done reading for the day, Spirit often has other plans.
So it was on this night in particular, as it had been for the past several days. I tried in vain to go to sleep and I was bone-tired, but it was not to be. I drank hot milk. I took a bath, followed by a nice cool shower to bring my body into balance. I went outside, to see if I could fall asleep under the starry night. Nothing worked. No matter how much I may have wanted to fall asleep, I was wide awake!
I pondered the computer, and whether or not to log on for readings at PsychicAccess.com. I decided against it, because I was concerned that as tired as I was I may not be at my best. So, I decided instead to browse a popular social networking site and see what was going on… if anything. Maybe an old friend might be online for me to chat with. Maybe I could just browse. Anything to divert my mind from the 100 mile an hour warped speed it seemed to be on!
I was not online for ten minutes, when I received a message from a woman I did not know. She wrote, "You had recently posted on a mutual friend's page. I am so sorry, I would normally never do this, but I sensed that you have a message for me. Your name just leaped out at me from the page and I just had to contact you."
I had no idea what she was talking about, and even less of an idea who she was. But then, all of a sudden, the floodgates opened and my hands starting typing, almost faster than I could keep up. Someone desperately wanted to communicate with this woman through me.
The more I typed, and the more I made statements that I had no idea what I was referring to, the more this woman became emotional. Our conversation lasted maybe 20 minutes, with me telling her various things and asking questions about things that I had no clue about, nor the people involved. I didn't know what all this information was, or where it came from.
I do not always understand what is given. I do not always agree. But I record it all honestly and then discover it does make sense and evokes intuitive response ~ Alice A. Bailey
It was the most incredible experience I have had in years, and I have been reading a very long time. I have spirit coming forward in readings to communicate every day, but never had it taken over  so powerfully as on this occasion. The spirit communication came from the woman's deceased daughter, who had passed away last year at the age of 41. She was in her prime.
Her mother was inconsolable. There were so many unanswered questions. I am a motherless child myself, so it seemed her daughter had been waiting for the right person through which she could speak to her mother. I sensed that she had sought out someone whom she could trust to channel these much needed answers.
I ended the session with a grateful woman, who had heard what she really needed to hear. And I was able to finally go to sleep at 3 am! The next morning she contacted me again to confirm that the missing personal items she had been looking for was right where I told her to look. Spirit is so cool!
This truly was one of the most satisfying mediumship experiences I have had to date. I've seen and heard miraculous things in the past, but this one was truly special. Who knows what my next bout of 'insomnia' might bring?

About The Author: Asherah

Asherah is a natural born psychic empath born and raised in Kingston Jamaica. An ordained Reverend and High Priestess, Asherah can easily tap into your real truth and help you to see clearly, releasing attachment to outcome by simply focusing on where you are now. Using tarot, numerology astrology and more..you can learn how to communicate your needs today! You can get a psychic reading from Asherah at PsychicAccess.com.


This site uses Akismet to reduce spam. Learn how your comment data is processed.