Reach Out And Touch Someone's Life Today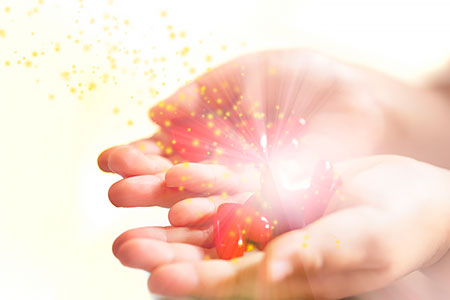 It has been nearly a full year since many countries started going into their first lockdowns due to the global pandemic. Some people have endured much suffering and loss, especially due to the passing of loved ones.
Some have also become ultra-stressed working on the front lines in healthcare facilities, nursing homes and many other essential services. Many have lost income, jobs and businesses. Many are facing mental health challenges. Many schools have been shuttered and teaching became virtual. Parents have been struggling to multi-task between working at home and entertaining or educating their kids.
Regardless of where we find ourselves on this stress continuum, it is important to try to find some order in all the chaos. Although it might be hard to reconcile with the state of the world as it is today, it is still vitally important to carve out a little time for self-care and putting yourself first.
Just a few brief minutes of deep breathing, visualization, meditation, reading uplifting books, journaling, or a perhaps the luxury of a quick walk outside to clear the cobwebs can all work wonders! Whatever is feasible on any given day, it is important that you create a little oasis of calm for yourself. Reduce the pressure of the day by showing yourself some love and respect first.
If you are in doubt as to where to start, you can begin by just focusing on some gratitude and appreciation. Despite all the loss and heartache many of us have suffered in recent months, there is always something for which we can be grateful. Whether it is something grandiose and eventful or small and precious only to our hearts, give thanks for whatever comes to mind.
Love can be a wonderful motivator. We often do things for the people we love, rather than doing those same things for ourselves. It can feel wonderful to see the reaction of our little ones, spouses, elders, colleagues, or neighbors when we say or do something special to surprise them or acknowledge them. That is all it takes to show some love, compassion, appreciation and friendship.
Love and compassion are necessities, not luxuries. Without them, humanity cannot survive ~ Dalai Lama
So, take a quick minute every day to let someone know that you are thinking of them, whether it is in the form of a call, text, email, social media post, or even a bunch of flowers. You might not be able to travel or visit in person at the moment, however your warm gesture might be just the tonic that the recipient needs on that particular day at that particular moment in time.
Conversely, try not to judge if you are not receiving enough acknowledgement or appreciation for all your efforts in these challenging times. People do not always realize how important it is to reciprocate in kind and it can seem that our efforts have fallen by the wayside. Keep going anyway.
Fill the world with love, light, joy and laughter. Yes, it is okay to find some lighthearted relief from our current situation. Spread messages of love, light, compassion and kindness. You don't always realize whose life you may be touching.

About The Author: Monica

"What you think about, you bring about; what you believe, you become." This is Monica's philosophy, derived from her twenty-five years of experience as a Clairvoyant, Light Worker and Medium, living in Ontario, Canada. Monica has been a guest speaker at various Spiritualist churches, conveying Spirit greetings and messages from loved ones during Sunday services, All Mediums Nights, Healing Services, Meditation Services and special fundraising events. She's been an advisor to several international business leaders and connects with all of her clients on a level of love light and empathy. She delivers messages containing ideal outcomes and positive solutions with the help of her guides. If you'd like Monica to help shape your destiny, you can find her at PsychicAccess.com.