Find The Eye Of The Storm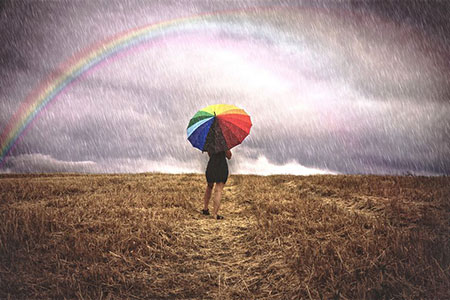 Your relationship is falling apart, you have lost your job, your finances are in a shambles, you suffer an unexpected loss due to a global pandemic. Chaos comes in many forms and at times it touches multiple areas of our lives at once.
The ripple effect starts in one area and then spreads insidiously, until every aspect of your life begins to look very bleak. Your emotional reserves are drained, confusion sets in and you feel stuck, powerless…reeling from the shock.
When things turn bad in your life this way it can have the force and power of a hurricane or tornado. It can be devastating.
Perhaps you sensed it coming. Your intuitive radar was 'pinging', sensing imminent danger, or maybe it caught you completely off-guard. Either way, the results are the same.
Now what? How do you get your bearings, recover your sense of direction, recharge your battery and get the inner strength to move forward?
All tropical storms have a center, or an eye. The stronger the storm the calmer the eye, which is characterized by lighter winds and a clearer sky. So, take a breath – a deep breath – and find your center. Find the eye of your storm.
Making decisions from fear or chaos always increases the strength and ferocity of the storm. Remember, all storms do pass. The beauty of life lies in the newness and change each moment offers us.
Jump into the storm. Swim and fight your way to the center of the vortex. There we will sit together in the quiet and find the solutions ~ Skye Thomas
Focus on calm, peace and manifesting the desires of your heart. Love trumps chaos every time and love radiates from the center of the heart – our 'human eye of the storm.' Find your center, find the eye and focus. The storm will pass and clear skies are on their way soon!

About The Author: Angelic Heights

Empathic, intuitive, psychic from a very young age, Angelic Heights (Gail) learned well the importance of using her gifts for the highest good. Marriage and a career in the paralegal field occupied her until her early 30's. Accurate, compassionate and direct, her focus now is entirely on enlightening, uplifting, inspiring and guiding those who seek her counsel. Gail believes that it is as critical to understand the energy of the people we choose to be involved with. Regardless of the nature of the issue, whether it be romance, career, business, or family, the essential needs of every client always come through clearly in her readings. She is able to hone in very quickly on major concerns and deliver accurate messages and solutions to problems. Get a reading right now with her at PsychicAccess.com