A Spiritual Life Must Be An Authentic Life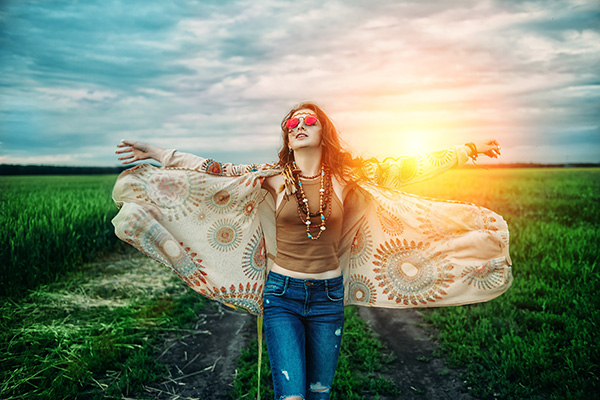 While attending a spiritual retreat, my friend, who is also a psychic medium, suddenly said, "You see the woman over there?"
"Yes," I said. "Who is she? Do you know her?"
"I do," she replied. "She's a poser."
Well, I was not familiar with the term 'poser,' so I responded, "What are you talking about? What is a poser?"
She then explained that the woman in question claims to have been a working as a psychic medium for 30 years, with lots of credentials and certifications from different organizations. However, my friend was at another convention just the previous year, where she had met this lady. And at the time, she told my friend that she had only recently discovered that she was psychic!
"That, my friend," she concluded, "is what I call a 'poser."
Well, this was a stark reminder for me. In this 'post-truth era' we now live in, it seems anyone can claim to be an expert in anything, as long they can talk a good game. Watching the nightly news just last week, there was a report of a 'doctor' who finally got caught after he had been practicing medicine for years without the necessary credentials.
The notions of people being 'posers' reminds me of what some of my clients have been saying about online dating apps they have tried. There are many posers on all the social media platforms. People lie about their age, profession, relationship status, and so on. Some also use fake profile photos.
When you honor your most authentic self you are allowing your light to shine and touch the world ~ Cindy Trimm
I will never understand why a person would be looking for a good, authentic relationship while being inauhtentic and feeling they are not good enough to be in one. Surely, the best way to meet your match is to be your authentic self and tell it like it is? At some point in time, you are going to want to meet them in person. Otherwise, why bother?
Another type of poser is the superficial, materialistic person who claims they like certain music, fashion, political views, sports, arts, or spiritual pursuits, simply to fit in with whomever they are with at a given time. Some such posers will even go as far as getting themselves into financial debt, in order to 'keep up with the Joneses.'
I know someone who always has a fancy motorcycle parked in their driveway. They never take it out for a spin; it is merely there to show that they do own one. I once also dated a guy who posed for a photo next to his friend's Rolls-Royce, pretending it was his car. It was supposed to impress me, but had quite the opposite effect!
Why do people choose to be posers? I believe it is usually due to a lack of confidence and self-worth. Posers are simply people who do not feel good enough. Posers are often also people who have survived a dysfunctional childhood or other life trauma. Posers tend to be people who are in need of healing and increased self-awareness.
I suspect, however, all of us have the potential to be a poser at some point in our life, especially in our youth, when we are still finding our own identity or seeking our personal truth.
To live in grace is to be fearlessly authentic and tender, knowing the great breath of divine grace wafts through every moment ~ Marcia Beachy
In fact, I considered myself a 'hippie' back in the early 70s. I lived in Boston, Massachusetts at the time, where the hippie movement was in full swing. In hindsight, I realize that I was no more than a 'part-time hippie.' On the weekends, I would wear my long hair loose, with the bell-bottom jeans, fringe jacket with flower patches, and my favorite peace sign earrings. So, on my days off from work, I was basically a 'hippie poser,' because real hippies did not have office jobs!
But while most of us are posers only for a while, for whatever reason, some people are guilty of being lifelong posers. This severely limits their personal and spiritual growth. Posers tragically spend a lifetime chasing the 'fake' and pretentious, only to reach the end of their life journey with very little of spiritual value to show for it. The only way to achieve a spiritually meaningful, soul expanding life is to be true to yourself and live an authentic life.

About The Author: Elizabeth

Elizabeth's talents go back several generations. She found her own gifts and embraced them at an early age, recognizing the difference between herself and most others around her. She's since honed and mastered many metaphysical practices, providing hypnotherapy, Psychic Mediumship, Mysticism, and Hypno-Reiki to her clients in Maine, and in areas around the US and in Canada, where she travels. A lover of pets, they are her greatest teachers and these unconditionally loving creatures often chime in on a reading in addition to the Angels, Guides and loved ones who provide resolution and answers for each of her clients. Elizabeth is also an author with much spiritual wisdom to impart and is currently working on a book. If you'd like to be a recipient of her unique Psychic Wisdom, find peace and receive answers that will also benefit your highest good, you can reach Elizabeth at Psychic Access.