Saved By A Mysterious Angel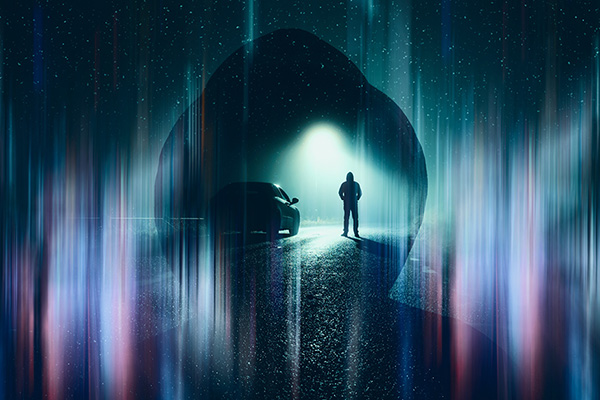 Many people have in-person encounters with angels without ever knowing it. This is because angels do not appear to us in physical form with stereotypical accoutrements like 'wings, harps, and halos.'  Fortunately, some people do realize when they come into contact with an angel…and live to tell the tale.
The most commonly reported modern instances are typically of strangers mysteriously showing up to save or protect drivers, passengers or pedestrians traffic incidents.
For example, early in 2021, Tracey and Dann Stadler were trapped in their burning car after they had been hit by a drunk driver. While desperately praying to God to not let them burn to death, they were miraculously lifted from the inferno by a mysterious man they both described afterwards as "a Heaven-sent person in angelic form."
Later the same year, in December 2021, Candace Pimentel and her children were driving home from church, when her nine-year-old son Raylen started to choke on a piece of candy stuck in his throat. She immediately pulled off the road and tried to help her son, but was unsuccessful.
Then a mysterious man showed up at the scene in a pickup truck. He calmly stepped in and performed the Heimlich maneuver on the boy, effectively dislodging the piece of candy, enabling Raylen to breathe again.
The mysterious man then told the boy and his mother that he loved them, gave them a hug, got back in his truck, and drove off. Nobody knows who he was. Candice later said she felt that the "Heavenly Father sent an angel to help me."
Encounters with angels are often dramatic and terrifying, but just as often they are commonplace, with angels disguising themselves as humans in order to speak and journey with people ~ Christian Bergmann
Throughout history there have been many stories of angelic visitors who were not initially recognized as heavenly helpers. For example, in the early 1800s, when explorers began to probe the arid California deserts in America, they gave accounts of how food appeared to them from "out of the blue."  There is also an account of a man who offered weary travelers food for sustenance.  Nobody knew who he was, how he had obtained the food, or what became of him. He merely identified himself as "a friend," and then vanished.
There are many such documented cases of profound angelic encounters with mysterious strangers performing serendipitous acts of divine intervention. Two of my personal favorites are:
The Staircase Angel
In 1878, an architect in charge of the design of the stunning Loretto Chapel in Santa Fe, New Mexico, passed away before its completion. This tragically happened before he was able to complete the construction plans.
It soon became clear that nobody had a clue how he had planned to get the choir up into the loft, some 20 feet above ground floor level.
The nuns of the chapel then decided that a simple staircase would solve the problem and petitioned Saint Joseph, the Patron Saint of Carpenters, to help them solve their dilemma.
After nine days of praying, a mysterious stranger arrived at the chapel, seeking employment. He never identified himself or revealed any personal details. All he had with him was a donkey and some basic construction tools.
Without hesitation the nuns then asked the mysterious visitor if he might be able to build the much-needed staircase for the choir, and the man agreed. However, he asked for some time to figure out how he could solve their dilemma. His only stipulation was that no one should visit the church while he was busy working there.
Once he had completed the work, the nuns were thrilled to discover that he had constructed a magnificent spiral staircase leading up to the loft. What made the staircase even more astonishing is the fact that he had somehow used materials that were not sourced locally. Furthermore, the staircase is in a double helix shape which is extremely difficult to build, especially by one man alone.  The stunning staircase also has no visible supports, and no nails were used in its construction – it is simply held together with wooden pegs.
The bottom-line is that mysterious stranger was no ordinary craftsman! The nuns never found out who he was, where he came from, where and how he obtained his materials, nor where he went.
He will give his angels charge of you to guard you in all your ways. On their hands they will bear you up, lest you dash your foot against a stone ~ Psalms 91:11-12
The Tractor Angel
On a peaceful summer afternoon in the south of England in the early 1960s, several families were gathered at a popular picnic area on a hillside. According to witnesses, a man on a tractor suddenly came ploughing downhill, heading directly towards the crowd of people.
Everyone try to hurry out of the way to avoid being hit by the out-of-control vehicle as it gained speed coming down the hill. Fortunately, the man then managed stop the tractor at the very edge of the hillside and effectively managed to safely steer it away from the picnickers and thus preventing any injuries or fatalities.
After parking the vehicle in a safe place, the unknown driver calmly went on his way, not revealing who he was, nor inviting any form of acknowledgement for his heroic act.  It was soon determined that he was not the owner of the tractor, nor a local resident of the area. In fact, nobody had any idea who he was. God must have sent an angel to save the day.
Therefore, if you ever receive help from a stranger when you need it most, remember that you may be interacting with an angel in disguise.

About The Author: Lucinda

Lucinda is a highly trained Intuitive and Empath, living in a beautiful village in North Yorkshire, England. She possesses the rare gift of understanding a client's personal pain and has been through many challenges, herself, which has only made her stronger! It is both her calling and her happiness to help those in need. And whenever she needs a little help herself, her Guides are always there to assist in her development and provide clear interpretations for her clients. Prediction has always been a great tool she could count on to accurately foretell events, but Lucinda also draws on her expertise with Dream Interpretation, Numerology, Angel Cards, Law of Attraction and Life Coaching to provide full and detailed solutions to any problem. A member of AMORC and Beyond Freedom Evolution, she provides inspiration, education and personal support for spiritual development. If you'd like answers or want to attract your desires, you can find Lucinda at PsychicAccess.com.