Do You Believe In Magic?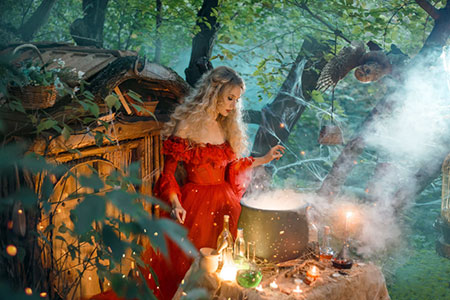 Do you believe in magic? I certainly do! I have not only experienced it, I have also been told by several different psychic readers over the years that I am descended from a very long line of witches. This does not really surprise me, as it is a well-known fact that people like me were called witches in our time.
People that were labeled witches were often those that others confided in. They were the sages that others went to for advice from spirit, the ancestors, or the cards, runes, bones, and many other divination traditions.
They were also the healers who cured with herbs and tinctures. Most witches had a sense of what plants and food would aid in healing the body and strengthening the mind.
And they were the mystics who blessed the tribe with rituals and ceremonies, and the prophets who guided the community's warriors and leaders.
When people don't understand something, it creates fear. The 'evil witches' often also knew too many of the local secrets. So, the witches were branded as malicious and wicked, instead of being appreciated and admired.
They were shunned, ridiculed, and even executed. Common methods were hanging, drowning, and burning at the stake. Burning alive was often favored because it was seen to be a more painful way to die.
But the esoteric wisdom and knowledge was passed down to select members of families and communities for generations by word-of-mouth. Not everyone was trusted with their secrets and not much was written down at that time either, for fear of persecution. But some would rather practice alone to avoid harassment, and much wisdom was lost in the process.
Witches exist throughout space and time. Witchcraft brings together the magical people throughout the world for the shared goals of justice, liberation, and celebration of the life force of the earth ~ Amanda Yates Garcia
I love to visit the town of Salem Massachusetts, the site of the Salem witch trials of 1692. Salem has a wealth of esoteric history, as well as several proudly practicing modern witches. I have quite a few friends who reside in that town and would never want to live elsewhere.
Almost all the witches I know are very happy people. I am not saying they do not also have their ups and downs of life, but they aim to be pragmatic and positive at the same time. The witches I know are also very strong believers of the old religion, which is practiced around the globe today. And to this day the wise magic of our ancestors continues to guide, and heal, and make the world a better place.

About The Author: Elizabeth

Elizabeth's talents go back several generations. She found her own gifts and embraced them at an early age, recognizing the difference between herself and most others around her. She's since honed and mastered many metaphysical practices, providing hypnotherapy, Psychic Mediumship, Mysticism, and Hypno-Reiki to her clients in Maine, and in areas around the US and in Canada, where she travels. A lover of pets, they are her greatest teachers and these unconditionally loving creatures often chime in on a reading in addition to the Angels, Guides and loved ones who provide resolution and answers for each of her clients. Elizabeth is also an author with much spiritual wisdom to impart and is currently working on a book. If you'd like to be a recipient of her unique Psychic Wisdom, find peace and receive answers that will also benefit your highest good, you can reach Elizabeth at Psychic Access.


This site uses Akismet to reduce spam. Learn how your comment data is processed.