Seeing Yourself As You Truly Are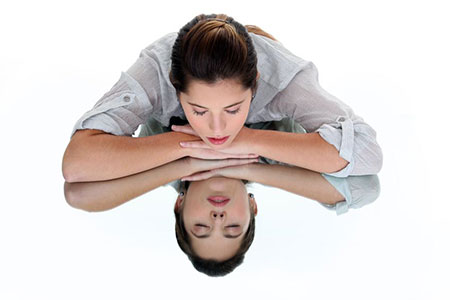 The art of 'being seen' begins within. It is not in the eyes, or heart, of an external beholder. It is the grace of being able to see oneself through the Divine Eyes of our Creator.
Every soul is unique. No two are the same. Each soul emanates from the Supreme Loving Source to offer its unique beauty and pleasure to God in an incomparable, individual way. When we look at ourselves through this lens, the true beauty, light, and power of the spiritual spark of our being shines upon our inner vision.
Relationships offer mirrors too. But what they show vary according to the quality of the reflecting surface. And what we see in them depends upon how well we know, see, and stand in the truth of our own higher self.
For example, if I look at myself in a broken mirror, do I see a crack in my face? I might…if I am not sure of who I am. However, if I know myself to be whole, I can readily recognize that the crack is in the mirror, and not in my face.
Similarly, there are relationships in life that reflect broken images back to us. That does not mean that we are broken, nor that the other person or people involved are broken either. We all have wounds and scars and other gaping holes yet to be healed, or not.
Whatever the case may be, it is the relationship itself that offers up the reflective element. It is the dynamic of exchange that shows itself as either clean, clear, balanced, cracked, smeared, skewed, and so on.
Knowing oneself in truth and wholeness is thus extremely valuable. If we do not possess such certainty of self, we may accept a broken or distorted impression projected by an ill-functioning relationship to be a reflection upon ourselves.
All the great teachers have left a similar message: Go within, discover your invisible higher Self and know God as the love that is within you ~ Wayne Dyer
But if you know yourself clearly and see your true self through the lens and grace of the Divine, you will be able to continue holding that vision of yourself, while simultaneously seeing what needs to be repaired in your relationships.
You may choose to mend the mirror or simply choose to look at it differently, or not at all. Whatever your choice may be, your sense of self and worth will not be shattered or shaken by another's point of view, or by the disharmonious dynamics between you.
Spirit is the essence of consciousness, the energy of the universe that creates all things. Each one of us is a part of that spirit – a divine entity. So the spirit is the higher Self, the eternal being that lives within us ~ Shakti Gawain
How do we get to this place of seeing ourselves as we truly are? There are as many ways as there are individual souls. However, one universally effective process is the chanting of God's transcendental names, which are renowned for cleansing the mirror of the mind and reviving innate spiritual consciousness.
For centuries, saints, sages, and simple folk alike have meditated upon the following mantra to open their inner eyes to their whole soul self, as well as their loving relationship with God and others: Hare Krishna, Hare Krishna, Krishna Krishna, Hare Hare Hare Rama, Hare Rama, Rama Rama, Hare Hare Simply by listening to the sound as you recite the mantra, the light of sight will begin to shine and show you from within.

About The Author: Lotus Grace

Grace is the epitome of her name, having endured a troubling childhood that paved the way for an adult, gentle, energetic grace that she now delivers to others through the gifts of movement, dance, and through her many intuitive gifts that she shares with her clients. For 30 years, this Hudson Valley, NY State resident has cultivated a unique way of helping others, drawing upon God as her best friend, advisor, and the all-encompassing force that is the bedrock of her faith. Her journey has led her to heal and grow through the mud of life and compassionately support others to do the same. She's immersed in the world's diverse faiths with a core that is deeply rooted in more than three decades of immersion in the spiritual practices and wisdom of devotional lineages. Her inner relationship with God/Spirit has deepened the intuitive sights, sounds, scents, and senses that unfold profoundly when she dances. Since 2004, Grace has run a spiritual healing arts and dance sanctuary, where she intuitively nurtures children, teens, and adults. In her client readings, she taps into her Empathic, Clairvoyant, Clairaudient, Intuitive healing to help clients access the divine guidance they need. If you're searching for a little added Grace, spiritual energy, and the answers you need, you can find Grace at PsychicAccess.com.