Let Your Spiritual Gifts Flow Naturally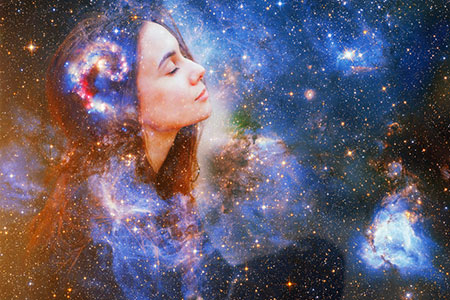 We are all metaphysical beings born with a variety of spiritual gifts. Some of us intuitively know how to use our special gifts early in our life, while others may have difficulty embracing them.
Expressing our natural spiritual gifts takes a certain mindset. The key is to not try too hard. That's right! No blood, sweat or tears are necessary. Just relax, surround yourself with calm and positivity, and clear your mind. Our metaphysical gifts and psychic talents flow naturally when we don't try to force it.
We experience intuitions, signs and synchronicities every day, but often we do not pay enough attention. You may have felt someone was coming to visit today, or a vision of that person flashed through your mind, and then you bump into them later.
Maybe you smelled a sweet scent that reminded you of someone, or you knew the phone was going to ring, and it just did. We may have a feeling not to drive a certain way home today, and later discover that we missed a major traffic jam. We all have an inner voice that talks to us when we have important choices or decisions to make.
Some people have won the lottery, after the numbers just 'popped into their mind.' We all have dreams that reveal important information to us about the past, present or future.  Some of us feel sadness or despair when we walk by strangers. We feel soul connections with some people we meet for the first time.
So, you see, we are all gifted, but we just need practice learning how to not try so hard, and instead just get comfortable and attuned with our spiritual self.
Everyone has been made in the image and likeness of God and given their own spiritual gifts to live out. Throughout your life, you will discover your strengths and the attributes that set you apart — the spiritual gifts you possess ~ Isabella Pacinelli
You are not just a physical and flawed human being. You are also this wonderful, enlightened, psychic being that has no physical boundaries and is only limited by the human ego.
The next time you feel, see, hear, smell, touch, or have an unusual emotion, pay attention. It may be your higher self that is calling you. Meanwhile, don't try. You are a magical spirit being. Just be.

About The Author: Krystal

Krystal's psychic talents with people and animals are as remarkable as her non-psychic adventures. Divinely gifted with multiple avenues for reading energy, she's hosted TV and radio psychic shows that quickly skyrocketed to #1. She has read for musical celebrities, provided lectures and is an Ordained Minister who has performed marriages and eulogies. She was also the first female race car driver, holding 4 titles, her accomplishments immortalized in a book! For over 4 decades, she has connected with her Guides, receiving visions and info from just the sound of a client's voice, and she's taught many devoted pupils to tap into and harness their own special gifts. From her dream home in Ohio on 200 acres that house a menagerie of animals, including mini-horses, Krystal can be found whittling walking sticks on her porch that tell a person's life story, and her readings will hone in on your unique life story, providing clarity on any concern. She brings balance, love, and healing, not to mention love and light to your life path. She has 12 natural spiritual gifts that require no tools to get the message across. Her guides offer detailed insights on all you need to know at the moment you enter her session. If you would like a reading with a psychic prodigy who's been reading since the age of 5, you can find Krystal at PsychicAccess.com.