Trusting The Truth Beneath The Surface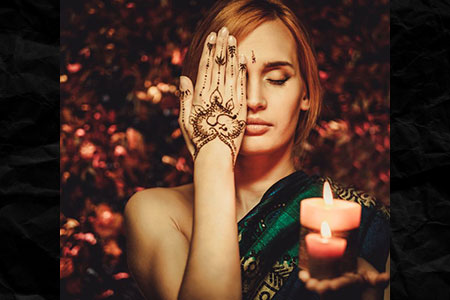 Spring is around the corner where I live, unfolding before my very eyes. But it has long been in the making, beneath the surface of Winter.
Similarly, rebirth or renewal is always on the spiritual horizon of our lives. Transformational energy is evolving and gaining momentum beneath the surface constantly – just waiting for the perfect moment to emerge and burst into bloom.
A psychic reading can see, hear, and feel into that energy to help connect your awareness with it. This is the most valuable way to approach any reading and ensure you receive the most from it.
Faith serves an integral role in mining the value of this energy from within. Our everyday physical senses are not equipped to hold the finer subtle matter, never mind the mystical or transcendental. But these senses are not the be-all and end-all in perceivers of truth.
Common constructs of society in the physical world put the burden of proof upon the eyes, ears, nose, mouth, and skin to see, hear, smell, taste, and feel. Ancient seers, knowers, and teachers, however, have long understood and communicated that more exists than the imperfect instruments of the senses can measure. They have cited faith as evidence and have highlighted a higher dimensional reality reached by it.
The Bhagavad Gita, an ancient Hindu sacred text, is one such recorded source of Divine vision and knowledge of all that is. In this epic verse, Lord Krishna describes a world where the roots are upward and the branches down, like a tree reflected upon a lake.
In the dark night of all beings awakes to Light the tranquil man. But what is day to other beings is night for the sage who sees ~ Bhagavad Gita
That upside-down world is actually the one we live in, but we only see the temporary cosmic world of matter. It reflects the real, original, undistorted eternal world of spiritual substance. That world is the 'right-side-up' higher reality. And it is not knowable or perceivable by the physical senses.
The teachings of the Gita go on to explain that it is only by devotion that it can be fully known, as it becomes revealed to the purified and spiritualized senses through loving service.
Faith is not a form of 'blindness.' It is an inner and implicit trust in something sublime and Divine. If the physical world measures truth and fact by what the body can see, hear, and feel, and this world is merely an upside-down reflection of the real image, then the real image cannot be measured or proven by the same upside-down means.
Following dark winter's strife, a warm air rises, teemed with life. Birth, rebirth, as the waiting die. Old love, new love sprouts wings to fly ~ Phar West Nagle
The burden of proof for truth is not upon the senses to perceive. The real measure of reality is the opposite. It is in the unseen. Faith or trust in that greater, subtler spiritual substance thus reveals the evidence of it.
A psychic reading guided by devotional intuition can therefore bring to light all sorts of hidden truths resting beneath the surface. It may not always fully align with how things appear to your eyes, ears, and outer knowing. But if your psychic advisor is gifted with access to energetic information received from the Divine source, they may bring you not only insight from the subtle layers of this world, but even higher truth and reason to be faithful, patiently trusting in its eventual revelation and realization.

About The Author: Lotus Grace

Grace is the epitome of her name, having endured a troubling childhood that paved the way for an adult, gentle, energetic grace that she now delivers to others through the gifts of movement, dance, and through her many intuitive gifts that she shares with her clients. For 30 years, this Hudson Valley, NY State resident has cultivated a unique way of helping others, drawing upon God as her best friend, advisor, and the all-encompassing force that is the bedrock of her faith. Her journey has led her to heal and grow through the mud of life and compassionately support others to do the same. She's immersed in the world's diverse faiths with a core that is deeply rooted in more than three decades of immersion in the spiritual practices and wisdom of devotional lineages. Her inner relationship with God/Spirit has deepened the intuitive sights, sounds, scents, and senses that unfold profoundly when she dances. Since 2004, Grace has run a spiritual healing arts and dance sanctuary, where she intuitively nurtures children, teens, and adults. In her client readings, she taps into her Empathic, Clairvoyant, Clairaudient, Intuitive healing to help clients access the divine guidance they need. If you're searching for a little added Grace, spiritual energy, and the answers you need, you can find Grace at PsychicAccess.com.


This site uses Akismet to reduce spam. Learn how your comment data is processed.