Your Eternal Core Of Divine Perfection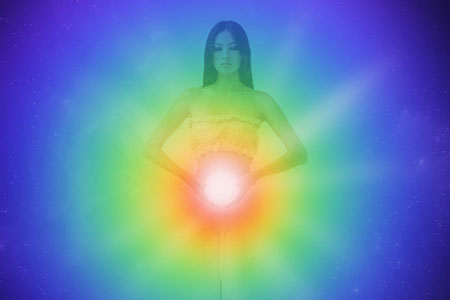 As I was coming out of meditation today, I had a message from Spirit. I was shown the beautiful ball of infinite Light that each of us are at the core. We are eternal Love and Light.
No matter what we learn, or how much earthly information we take in, no matter how much experience we accumulate in life on any given topic – at our core, we are already perfect in spirit.
This was an interesting insight for me, as a person who's spent most of her life chasing after more metaphysical knowledge and deeper spiritual experiences, only to find that none of the constant searching and spiritual work I had accomplished really matters when it comes down to the Light at the core of my being.
Sure, I have experienced a greater sense of expansion and mental understanding, from doing lots of spiritual work on myself, however, the innate perfection of who I am within, remains untouched and already perfect.
Some might disagree with this and say that it's not true, but this is beyond anything we could think, say, or do, it's our original State of Being that remains untouched by anything while we are here in human form.
I can say, however, especially as a Gemini, that when I'm called or propelled to do something different, or learn something new, it might take an army of thousands to stop me from doing it! When I feel guided to pursue something, I will move toward that and put a lot of my time and energy into it.
What is however interesting, is that the divine, eternal part  of us, the higher self, the ball of Light so to speak, is totally fine whether we pursue these things or not, because who we are with or without this knowledge or accomplishment, is already whole and complete.
If so, then why bother doing anything at all in this life, if it doesn't really matter and if we are already whole? My understanding is that we we can only follow the curiosity of the great mystery, as we make our way along our life journey.
Spirit is the essence of consciousness, the energy of the universe that creates all things. Each one of us is a part of that spirit – a divine entity. So the spirit is the higher Self, the eternal being that lives within us ~ Shakti Gawain
I think the most important spiritual guidance I received was that we tend to judge ourselves and others too harshly. We too easily believe we know who we are and what we are supposed to do in this life, and we end up constantly measuring whether we are doing it right, or not!
Of course, social media is a great way in the modern world to see how we measure up to the standards invented by others. These days many calls I get as a psychic reader, are from clients distraught about something someone else posted online. Unless we approach social media and therefore life itself with a broader sense of spiritual awareness, we are bound to end up miserable and hating ourselves, or someone else!
Truly, the light, the joy, the love we seek – the kind that is lasting – can only be found within our eternal core. Only once we fully recognize our own inner light, our own divine perfection, are we able to also see it in others. Then the wonderful world we live in is no longer a battle field, but a fantastic playground of immense creativity, true joy and endless potential.

About The Author: Isadora

Known as The Psychic's Psychic, since 1998, Isadora has read for thousands all over the world, her impressive list including clients from the Obama administration, Fortune 500 CEO's and notable names in Hollywood. Her detailed (Gemini) accuracy is nothing short of astounding, with her ability to see people at the Soul Level and clearly answer questions on a wide range of subjects, from relationship matters, business decisions, to past lives, etc.—anything that requires clear answers and pin-point insight. She has the ability to identify hidden patterns that run beneath your current situation, providing you with information to positively change your future. If you'd like a reading with this compassionate, straight forward, laser-accurate and dedicated Psychic, you can find Isadora at PsychicAccess.com.


This site uses Akismet to reduce spam. Learn how your comment data is processed.