A Morning Visitation From My Ancestors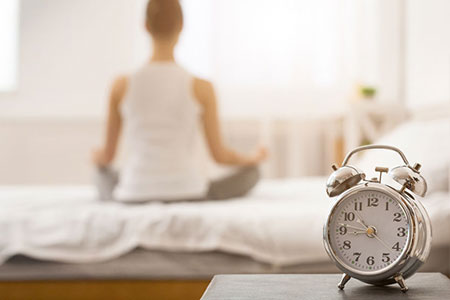 Some of the best times I had growing up was visiting my great grandparents during the summer holidays. It was not only fun, but also spiritual and magical. It really helped me to connect with the higher powers that be.
My great grandma was a very magical woman. Her mother was a psychic who would dream the winning lottery numbers for people. She was known as a wise intuitive and many people were jealous of her for many reasons. Legend has it that she used to make wine for Italian mobsters and even had the infamous Al Capone visit her home a few times. She was a happy little Italian lady, who always did everything and everything she could for her kids.
My great grandfather came over from Italy and he was a very stern, powerful man who only spoke Italian. He also made wine and he was much older than my grandma. I think there was a 20-year age difference.
Often, while talking to my great grandma, the lights would begin to flicker in the house and my grandpa, who was an electrician by trade, would then tell me that spirit connects with us through electricity. I thought it was cool and would try to make contact with my ancestors when I was alone.
Grandpa also promised me that when he died, he would come back to visit me. And he did. I shared that whole experience in a previous blog.
Earlier today, during my daily spiritual practice my great grandparents, as well as my grandparents all came to visit me again. We remain interconnected to this day. It is so great to be able to have these mediumship experiences. I saw their faces, surrounded by a pure white light. I could feel the blissful warmth of their love.
My ancestors offer me bliss, love, and light. I gratefully receive that which is for my highest good and release the rest back into the pure, white light ~ Amy Leigh Mercree
Never forget that we are all connected to our ancestors in spirit. We have the ability to tap into their loving support and guidance any time we so desire. Ask and you shall receive. That is exactly what I did during my morning meditation and this is what I experienced. It was so wonderfully reassuring. Our loved ones in spirit are never far from us.
Energy doesn't die, it only changes form. Our loved ones will find ways to connect with us after their passing. You are never alone, even when you feel sick, helpless or abandoned. We are each deeply connected to those in our particular soul group. Even if we only are with them for a short period of our life in the physical realm, once we are no longer sharing the same plain of existence we can still connect through the power of our mind, heart and our soul.

About The Author: Moon Goddess

Moon Goddess is a third generation empathic healer and seer. She started to give healing readings to people more than 20 years ago. She has always been interested and studied all things metaphysical from a young age. Being hypersensitive she can feel and see things before they happen. Utilizing the Tarot, and with the help of her Guides, she is a source of support for many people all over the world. After he passed over, her grandfather kept his promise and came back to say goodbye and gave her the most amazing experience. Moon knows there truly is a Heaven, and it is wonderful! Sharing her experience has helped many people after they have lost someone, or anyone experiencing some form of grief. Get a reading with Moon Goddess now at PsychicAccess.com.


This site uses Akismet to reduce spam. Learn how your comment data is processed.