The Healing Power Of Trees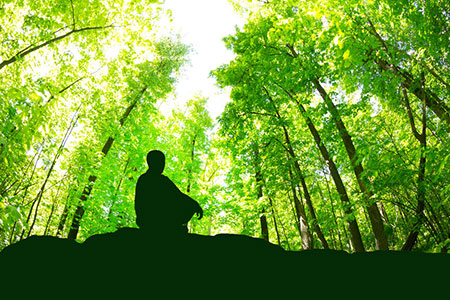 Recently, I was visiting the small town in the Spanish countryside where I lived a couple of years ago. After running my errands, I met up with a friend in a small café, close to her home. Here we struck up a conversation with a very interesting, serene-looking gentleman, who had some fascinating things to say about the trees in the beautiful pine forests that surround the town.
At first he told us how worried he was that we might be subjected once again to a total lockdown due to the Covid-19 pandemic. But it soon became clear his fear was not due to the usual reasons. Apparently he goes to the nearby forest several days per week, for what he describes as his "charge up fix" of energy from the trees.
During the total lockdown in Spain earlier this year, he greatly missed the forest and, combined with the lockdown restrictions and sense of isolation, him not being energized as usual by his beloved trees, had a significant impact on his overall well-being and mental health.
He mentioned how he usually spends a lot of time talking to one particular old tree, and knew the tree was missing his presence when he had to stay away during the lockdown. He proudly showed us a photo of this favorite tree and explained how he communicates telepathically with the tree.
He had named the tree 'Buho' (Owl), because both the appearance and wisdom of the tree reminded him of an owl. During the lockdown period, when he was unable to visit, he would communicate telepathically with 'Buho,' by focusing on the photo of the tree.
Trees exhale for us so that we can inhale them to stay alive. Can we ever forget that? Let us love trees with every breath we take until we perish ~ Munia Khan
Since he was a little boy, he would sit and walk among the trees in the vast forests around his home town. He says he understands their 'language,' and I believe him. He speaks to the trees when he feels troubled, and he feels the whispers of their unconditional love and counsel when he asks them certain questions.
Some trees are friendlier than others, he says, because they each have their own special characteristics and personalities. It takes time and patience to develop a rapport with a particular tree, he explained.
"Did you know that trees are the Earth's most spiritually advanced plant," he asked. With a look of awe on his face, he described how the trees merge with the subtle energies of everything around them, and their healing power is very much underestimated.
He is so convinced of the healing power of trees, that he often goes into the local pharmacy to tell people, who are collecting their prescriptions, that a little meditation and tree energy can boost their healing too!
"I love the local pine forest. The trees are huge and they radiate wonderful Chi energy (Universal energy). They feed my spirit and soul, and they calm my nerves," he said. "The big trees are best, like the pines." He explained that they radiate Chi, nourish the blood, strengthen the nervous system, and even help us to live longer, because they nourish our soul and spirit. Chi is the electromagnetic energy which flows through everything in creation
It is not so much for its beauty that the forest makes a claim upon men's hearts, as for that subtle something, that quality of air that emanation from old trees, that so wonderfully changes and renews a weary spirit ~ Robert Louis Stevenson

Trees do not only absorb carbon dioxide, and give us back much needed oxygen, but they also absorb negative energy, transforming it into positive energy. For this reasons there are many benefits to having trees and plants in our homes and office environments.
I asked him if recommends the hugging of trees. "Absolutely," he responded, "but you need to be patient, as you build up your connection with a tree and the forest itself. When you touch or hug a tree, make sure your intention is pure and that you do so in a loving, grateful way. And remember to say thank you for the energy you receive for the tree."
I am now even more aware of the magical energy of the trees and nature around me, since having this enlightening chat with a random stranger. I know that it was no coincidence that we encountered each other in that café. It was such a pleasure to meet him, but I doubt from the looks on the other people's faces that they would have been open to his wise words of advice.

About The Author: Shani

Shani is a qualified practitioner in Reiki, aromatherapy, reflexology, body spin, and animal telepathy who received psychic development training at the Arthur Findlay College of Psychic Research in England. A published writer, her articles and predictions have appeared in several respected magazines and on psychic websites, and she has read for many celebrities and even heads of state in Africa. Because of her empathy, people find it easy to connect with her. Every month, she attends a psychic circle and the information that comes through from Spirit never ceases to amaze everyone present. Though she was born in London, Shani has traveled the globe and has studied the art of African Mysticism, bringing her unique flavor to those seeking her incredible talents. What she has taken away from her many travels abroad, is that there is always a sort of longing clients have to be connected to the source of their being. Get a reading with Shani at PsychicAccess.com.