Soul Group Zen Connections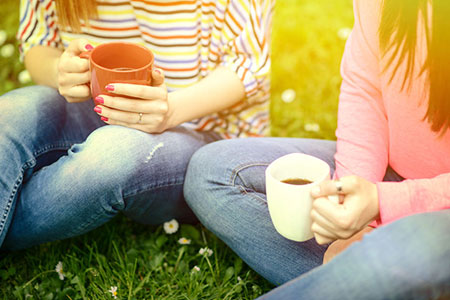 I love when you meet a new friend and they are on the same wavelength. It usually feels like you have known them forever and you can just talk for hours, completely losing track of time. Time does fly when we connect with those who are in the same soul group.
I recently had the rare experience of talking with someone who, like me, is also intuitive, emphatic, sensitive, and loves the Tarot and crystals. It was a blessing and rare opportunity to talk to someone with whom I have so much in common on a spiritual level.
We soon discovered that we have both learned to set up healthy boundaries in our lives, including with our in-laws. We also lived in the same city for the first five years of our lives. There are also many other personal things we have in common.
I call this state of resonance with someone or something 'to be in zen.' When we are in zen with someone, we are connecting with a kindred spirit. It happens smoothly and easily, as our energy is in alignment with our own truth and theirs. No hang-ups, no snares, no issues, no resistance.
I also believe we are divinely guided towards those who share our soul group. Like attracts like, and this creates a positive domino effect with everything just smoothly energized and aligned. Our health, happiness, well-being benefit from it on all levels.
My Spirit Guide once put it to me like this and it makes perfect sense: "When you go through life not recharged or reenergized, you tend to not connect well spiritually." There are many ways to recharge our spiritual batteries, including meditation, a healthy lifestyle, being charitable, and so on.
On a soul level, we are all here to walk this journey, and even though everyone's path is slightly different, we all come here with a group of souls that are energetically in harmony with us ~ Tanaaz
We also revitalize our spiritual energy whenever we connect with and spend time with those who are 'soulmates.' A soulmate is anyone from our soul group with whom we connect on a deeper level – or what I call 'being in zen' with.
The same principle applies when setting healthy boundaries with those who we are not in zen with. In the same way soulmates reenergize our souls, we are equally drained by energy vampires in our life. Therefore, I steer clear from those who make me feel like whatever I do is not good enough. Those folks need to be kept at a distance – the further, the better.
You can still love them, if they are relatives, but you don't have to share your energy field with them. Never feel guilty either, as it's part of your spiritual health care routine, which is vital to your mental, spiritual and emotional well-being.
Many souls do encounter one another in lifetime after lifetime after lifetime, for they have become friends. This friendship is based in the non-physical world, and the friendship…is based upon their past success in achieving the growth they are seeking ~  John Payne
It is best to connect with those who you feel you are 'in zen' with, so that you can walk away feeling recharged, instead of depleted. And when you find a kindred spirit, which is a very rare blessing, make sure you nurture your relationship with them.
Soul group 'zen connections' can also happen more frequently and easily if we take the time to keep ourselves balanced by doing things like yoga, mindful breathing and meditation and eating healthy, and spending time doing things that are good for us. It keeps us on the path of truth and light.

About The Author: Moon Goddess

Moon Goddess is a third generation empathic healer and seer. She started to give healing readings to people more than 20 years ago. She has always been interested and studied all things metaphysical from a young age. Being hypersensitive she can feel and see things before they happen. Utilizing the Tarot, and with the help of her Guides, she is a source of support for many people all over the world. After he passed over, her grandfather kept his promise and came back to say goodbye and gave her the most amazing experience. Moon knows there truly is a Heaven, and it is wonderful! Sharing her experience has helped many people after they have lost someone, or anyone experiencing some form of grief. Get a reading with Moon Goddess now at PsychicAccess.com.