Spirit Messages In Your Everyday Life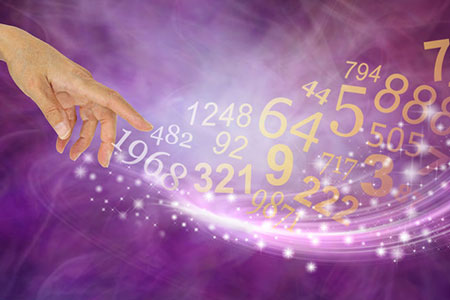 Many years ago, while studying with spiritual author and teacher, Doreen Virtue, I was introduced to the topic of repeat numbers, hidden messages, and symbolic patterns. You don't have to be a psychic to notice the subtle signs being shown to you every day, or to notice that the Angels and Spirit are sending you messages.
When we are having a bad day, or worrying about something, those are the times it seems we most need a sign from above, or a comforting message from Spirit. According to many metaphysicians and spiritual teachers, Spirit and our Angels communicate with us many different ways, but one of the easiest ways to get our attention is through number sequences.
One day, driving home from the office, I came up to a stop light where I was behind a car that looked identical to my dad's when he was alive. As I inched my way closer, I saw the license plate on the car had the number sequence 444 on it. It had been a difficult day at work for me, but I knew as soon as I saw that car, with those numbers on the plate, that I was getting a message from Spirit. It was my dad and my Angels letting me know they were with me and sending support.
According to Doreen Virtue, 444 often foretells someone getting their wish, or is a numeric message that you have 444 Angels with you at that time. You may see these repeated numbers on the clock, street signs, license plates, phone numbers, home addresses, or any random place where you may not be expecting it.
Numbers are both vibration and frequency. Everything on earth and in the cosmos is vibration and frequency. They are the secret codes that contain information to help us, like a magnet attracting a force that needs attention ~ Shanon Taphorn
I often have clients tell me they keep waking up in the middle of the night, and when they look at the clock it is always the same time. For instance, 1:11 can mean new beginnings; 3:33 means the Ascended Masters are with you, and so on. Spirit and your Angels will typically show you these signs multiple times to make sure you get the message.
Spirit can also convey messages through colors. On the morning that my dad passed away, he came to me right away and showed me a big orange circle in a vision. Although I wanted to connect with him and talk about his transition, he just kept showing me the color orange. Well, several hours later the florist rang the doorbell and was delivering a sympathy bouquet from friends primarily consisting of big, orange flowers. For lunch that same day, we had ordered food to be delivered from a catering service. The plates they used were bright orange, as were the napkins, and even the garnishing on the food trays!
Names are another way Spirit sends messages to us. For example, you might be waiting in line at the grocery store and you overhear the people in front of you talking about someone named Adam. Then you get home, turn on the television and there is a couple talking, and the man's name is also Adam. Then, the phone rings and it is a sales call, and the agent introduces himself to you as Adam.
Seeing a specific sequence of numbers such as 333 only once or twice may not be a message from your guardian angel. But if you begin to notice the same numbers appearing frequently, then you should suspect that they are angel numbers and are a message from an angel ~ Ryan Hart
If you were paying attention to these synchronicities, you would have noticed by then that the name Adam had come up three times. Later that week your best friend tells you she is going to set you up on a date with her roommate's brother, whose name is Adam. You go out with Adam that weekend. It is love at first sight and you live happily ever after.
Spirit and your Angels were giving you a future message that you were going to meet your true love, Adam. Such messages and signs are around you every day, you only need to keep your eyes and ears open.

About The Author: Isadora

Known as The Psychic's Psychic, since 1998, Isadora has read for thousands all over the world, her impressive list including clients from the Obama administration, Fortune 500 CEO's and notable names in Hollywood. Her detailed (Gemini) accuracy is nothing short of astounding, with her ability to see people at the Soul Level and clearly answer questions on a wide range of subjects, from relationship matters, business decisions, to past lives, etc.—anything that requires clear answers and pin-point insight. She has the ability to identify hidden patterns that run beneath your current situation, providing you with information to positively change your future. If you'd like a reading with this compassionate, straight forward, laser-accurate and dedicated Psychic, you can find Isadora at PsychicAccess.com.


This site uses Akismet to reduce spam. Learn how your comment data is processed.