Beauty And Positive Thoughts With Archangel Jophiel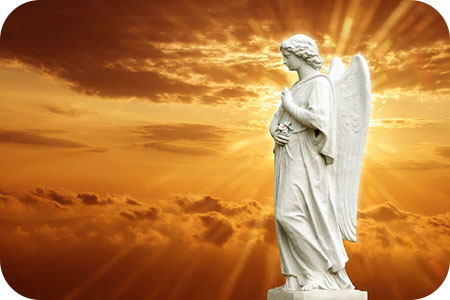 Often referred to as the 'Angel of Beauty' or 'God's Beauty,'  Archangel Jophiel can help to bring some gorgeousness into your life! She does this by helping you think beautiful thoughts which, in turn, helps to develop a beautiful soul.
Therefore, should you find that you suddenly recognize beauty in the world around you, or spontaneously find ideas as to how to create some beauty in your own life, then it may well be that Archangel Jophiel is close by to help you to enjoy a more beautiful life.
As she is the Angel of Beauty, Jophiel's energy is deeply feminine. Her main objective is to help turn any of your negative thoughts and feelings into beautiful ones. Jophiel does this by helping you to think positively about your life and your environment. Indeed, she can help to fill your heart with sheer gratitude, happiness and love, and will assist you in the art of self-care, so that you cannot only help but beautify yourself, but also help others do the same.
That said, as much as Archangel Jophiel is an asset in creating outer beauty, such as achieving a lovely skin, hair and physique, equally she can help make you beautiful on the inside too. She is also a valuable ally with regards to beautifying your home environment.
Should you find yourself overwhelmed with negative thinking, Archangel Jophiel can soon help to reset your mind to a more positive mode. She is also incredibly good at helping to heal relationships by helping to resolve any misunderstandings between the two parties.
Jophiel brings vitality, stimulation, and the power to liberate one's self from the prison of negativity, or the slough of despond ~  Stewart Pearce
You can pray to Archangel Jophiel to fill your life with beauty at any time. By doing so, you should feel much more satisfied, joyful and happy, because she will teach you how to learn to love yourself and find your inner beauty at the same time.
The above all said, how do you recognize when Jophiel is around? Look out for the following signs of her presence:
Light Bulb Moments
You suddenly have a great idea or see things from a fresh perspective. Archangel Jophiel often sends new ideas with regards to problem-solving. She may even implant a solution in the mind of an individual who is seeking answers to an issue.
Therefore, should you find that an obvious answer to your dilemma has just been presented to you, or you have had a 'light bulb moment,' then this may well be Archangel Jophiel working on your behalf.
Furthermore, Jophiel takes sheer delight in helping people solve problems creatively and thus may decide to fill your mind with creative solutions to whatever it is that may be bothering you.
Yellow Glow
You may observe the glow of yellow light when Archangel Jophiel is around and this is because she is the leader of angels that are connected to this particular light ray.
Jophiel can also be recognized in any creation of art that reflects sincerity, beauty and integrity.
When seeking wisdom or a shift in perspective Archangel Jophiel is the archangel to call in to uplift you and help you see things from a different point of view ~ Dawn Demers
Positive Mindset
Jophiel is around when your negative thoughts are replaced with positive ones. Spirit teaches that positive thoughts should become a habit and Archangel Jophiel is an excellent ally in helping you get into the habit of replacing any negative thoughts in your mind with positive ones. She is also the correct Angel to seek help and support from if you are having difficulty in learning from experience and as a result, making the same errors time and time again.
Archangel Jophiel is also a great support to those who lack self-esteem or may feel they are a victim of other people's negative thoughts and beliefs. Furthermore, for students or indeed anyone undertaking any kind of study, she is invaluable in helping the individual to absorb information and learn new skills easily.
Here is a delightful prayer to Archangel Jophiel, should you feel you need her services.
Almighty Archangel Jophiel, God's Angel of Beauty, I thank you for helping me to find beauty in my life and to recognize it in the world around me.  
Please help me to remain empowered and react positively to any message from any person or society in general that may be seen as negative by challenging my sense of self-worth. Whenever I encounter one of these messages, be it via an individual, social media or advertisements, remind me of my unique beauty and that I do not need to seek the approval of others to feel good about myself.
Help me to recognize that I am beautiful and unique in my own way and even though I may not have all the physical attributes I may choose to have, I am still a Child of God and am, therefore, beautiful in my own right.
Please also help me to appreciate my body fully and treat it as the temple of the living spirit, which indeed it is. Remind me of the importance of taking good care of my physical health by nurturing my body with the right kind of foods, the correct amount of sleep and engaging in adequate exercise on a regular basis.
I recognize that my mind is one of my most precious and powerful assets, so kindly prompt me when necessary to keep my thoughts positive, so that I can deal with life's challenges in a constructive rather than a destructive way. During the course of my day, as my mind becomes bombarded with a myriad of information, help me to decipher those thoughts that are necessary and to dismiss those that are not.
Grant me fresh new ideas for solving everyday problems, working on any given projects and the ability to express myself in such a healthy way that will bring happiness to both myself and my fellow man.
Aid me to become a more kind, loving human being who fully trusts in God Almighty to answer my prayers in the most beautiful of ways, so that any situation I may find myself in works out for the best of all concerned.
Amen.

About The Author: Lucinda

Lucinda is a highly trained Intuitive and Empath, living in a beautiful village in North Yorkshire, England. She possesses the rare gift of understanding a client's personal pain and has been through many challenges, herself, which has only made her stronger! It is both her calling and her happiness to help those in need. And whenever she needs a little help herself, her Guides are always there to assist in her development and provide clear interpretations for her clients. Prediction has always been a great tool she could count on to accurately foretell events, but Lucinda also draws on her expertise with Dream Interpretation, Numerology, Angel Cards, Law of Attraction and Life Coaching to provide full and detailed solutions to any problem. A member of AMORC and Beyond Freedom Evolution, she provides inspiration, education and personal support for spiritual development. If you'd like answers or want to attract your desires, you can find Lucinda at PsychicAccess.com.