The Truth About Dragons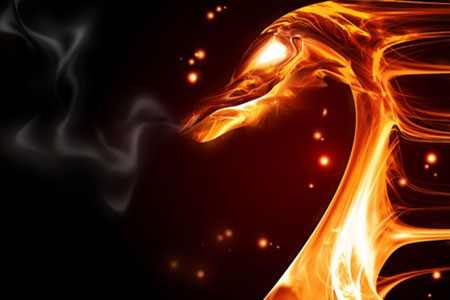 Dragons are often relegated to the realm of myth, but in my experience the energy of these beings can serve as an ally in our everyday life. Dragons in the western tradition tend to have a bad rap. For example, in some Judeo-Christian theology, the dragon is considered a symbol . When I first encountered this type of being in my own life I was taken aback. My roots stem from the Judeo-Christian tradition and much of my training and personal evolution stems from this background.
In eastern cultures, dragons are looked upon in much the same way westerners consider angels. These beings bring with them blessings, help, and unique power to facilitate change. Dragons are also represented in the Biblical tradition as well, but they have a different name.
Several years ago, I had my first encounter with a dragon-like being. When I saw it I heard the word seraph, even though at the time I had little familiarity with the term. I looked up the term and the literal meaning of the word is, 'flaming serpent.'
In my experience, the creature looked exactly like the traditional conceptualization of a dragon, with a few minor differences. I realized after this first encounter I had interacted with a seraph – one of the classes of angels.
People who deny the existence of dragons are often eaten by dragons. From within ~ Ursula K. Le Guin
In many modern traditions the seraphim belong in a hierarchy that does not interact with humans, but contrary to this popular belief, I have interacted with this seraphim for many years now. I do not have a name for the being, nor does it present itself in the same was as my other spiritual guides. Often it will simply show up during my meditation times. Each time it has appeared it has assisted me in facilitating major life changes.
In my experience, seraphim are no-nonsense creatures. Although their energy is gentle and kind, they come when it is time for significant changes to occur. Seraphim purify our path. Not in a moral sense, but rather, the seraphim are able to purify us from experiences that have caused us to deviate from our soul's highest calling and purpose. Their fire refines our ability to love more effectively, and to overcome fear.
Even though the seraphim have not yet come forth when I was consulting with a client, I do believe that the gentle yet powerful energy of these helpful beings are available to all of us. Many people come to me for a consultation because they are in search of a better, or more meaningful life. Often times they desire to change within their circumstances or in their relationships. What they often fail to realize is that change in this life is only facilitated by our willingness to change. We cannot change anyone else, but we can change ourselves.
If you are seeking a more meaningful and fulfilling life, it is crucial that you recognize that this is only available through your own capacity and willingness to change. Your love, joy, and peace is not a condition of your circumstances or relationships. Love, joy, and peace are inner qualities of life.
If you desire to facilitate such changes, I would recommend two things. First, you must release the past and forgive everyone. All of us have been hurt, and some of us have certainly been hurt more than others. However, when we hold on to our past pain through anger and resentment, we relive our painful experiences again and again. Forgiveness is the avenue on which miracles arrive in our lives.
The ultimate challenge of a teacher lies not in the slaying of dragons, but rather in exposing them as beasts no longer to be feared ~ Alan Burton
For many years I did not know how to forgive. I held on to resentments and pain, mainly because I did not know how to forgive. I also could not see beyond my own anger. I did not recognize the intrinsic value forgiveness offered. Even though I grew up in a tradition that focused a lot of attention on forgiveness, there was also a lot of gossiping and complaining in these environments as well.
If forgiveness was truly modeled to me when I was young, I missed that lesson. Thankfully it is never too late to forgive. If you are like I was years back, I would recommend using this affirmation, "I am willing to forgive." The universe always supports our desire to be free and will hold nothing back to assist us in facilitating our freedom. It may take time, or it may take no time at all. It will take as long as it takes, but I guarantee that if you express your willingness whatever you need to accomplish your intention will eventually come into your experience.
The second recommendation is quite simple, be willing to change. Simply say, "I am willing to change." Everything is always changing anyway. We have cycled within our planetary weather patterns, cycles within our society, and cycles in our own personal lives. When we put the intention forward that we are willing to change we become an active participant in the process of change and evolution in our own lives. You are not the victim of circumstance. However, to experience a positive change in life, it is crucial that you are an active participant in that change.
When we align our willingness with the creative force of the universe all possibilities can open up for our lives. Support can come from every level, from spiritual to relational. Who knows, you may even become a participant in the tales of the dragons.

About The Author: Cosmic Coach

Cosmic Coach (James) has mastered many techniques in his psychic practice to connect with the unique heart center of each of his clients. He is a Reiki Master of many traditions, who is adept at crystal healing, card readings, and delivering detailed messages from Angels and Guides. A Christian Minister, a teacher and an Energy Guide, living in Michigan, James is always expanding the base of his knowledge to broaden his reach and serve as many clients as possible. To experience a unique reading personally designed for you, you can find Cosmic Coach at PsychicAccess.com.