Why Take A Hospice Course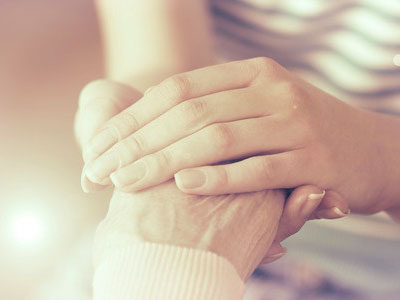 Why would anyone want to take a course about death and dying? Most of us don't even want to think about death, much less talk about it. A lot of people think and feel it's just plain crazy, and that such a course could never enrich their life.
I can only speak for myself and say that I highly recommend a hospice course, especially if you want to understand yourself and life better. Hospice teaches people how to live while dying.
The cost of a course is usually very affordable as it is not aimed at making a profit. However, I had to take several evenings off from my work as a psychic medium, hypnotherapist and energy worker, so it cost be a lot more in the end. But it was well worth every penny, including the time I spent braving the cold winter here in Maine.
Hospice is such a tremendous thing. Patients seem to reach an inner peace ~ Harmon Killebrew
One of the things that prompted me to take the course was the fact that I see and talk to dead people all the time in my work. I actually have 'appointments' with them just like I would with the living people. So, why not better equip myself to comfort those who are in the process of dying and help them live more fully until they depart.
One of my very best friends is a hospice nurse and it is clearly a job not for the faint-hearted. We talk almost every day to catch up, even if it's for just a few minutes. She always talks about how traumatic the death process is for the family and friends who are in the role of care-givers.
My conversations with her made me realize that hospice-related work might suit be very well. I am a hypnotherapist and Reiki master, so I could offer stress-relief to the care-givers, family members and even the hospice nurses and staff, but most importantly the person that is preparing to cross over. It has been my friends and my experience that the person that is crossing over is usually doing okay, as long as the people around them are handling things with less stress.
Death and dying does not come with a pre-ordained course. It is a great course for life skills on how to live your life and have a grateful death. Some hospice courses also teach you how to calm patients and family through holistic means, such as therapeutic touch, laying on of hands, Reiki, hypnotherapy, guided meditation, music therapy, or direct counseling. However, not all hospice organizations offer these kind of practices, because they are considered alternative practices.
One of the things a hospice volunteer may choose to do, that is partially interesting to me, is called 'tender care.' Tender care is when a person has no family or friends around and afraid to die alone. The hospice volunteer sits with this person the last few hours of the death process. You can hold hands or just be in the room with them – whatever is comfortable for you and the patient. I feel it is an honor to assist and be in this way with a person that is crossing over.
Nurses are there when the last breath is taken and nurses are there when the first breath is taken. Although it is more enjoyable to celebrate the birth, it is just as important to comfort in death ~ Christine Bell
Hospice care is for all dominations of faith, and all souls. A lot of hospice groups have bereavement and support groups for the community, before and after the change called death. One of my classes featured a trip to a local funeral parlor to view caskets and urn options. We experienced an extensive tour of all the rooms, even the embalming area. Somehow it gave me peace of mind. I know that may sound morbid, but for me it took away some of the fear of what happens to the body.
Another class was about how to build your own wooden casket, which can convert from a coffee table into a casket when the time came for its use. Some people also don't know that you have different options for your burial and that you do have organic choices. It is not mandatory to have a conventional funeral. There is an urn, for example, that I want personally, in which your ashes are planted with a tree, so the ashes become part of the tree. In this way life then goes on in another form of energy.
Each hospice case is unique and all have the support of a concerned person… the hospice volunteer. Hospice helps a person die in his or her own way, congruent with their way of living, and with dignity.
The most valuable lesson I learned is to listen with my heart. I learned to get in touch with my own feelings about death and dying. And it's okay to be honest, it's okay to cry. This is real life.

About The Author: Elizabeth

Elizabeth's talents go back several generations. She found her own gifts and embraced them at an early age, recognizing the difference between herself and most others around her. She's since honed and mastered many metaphysical practices, providing hypnotherapy, Psychic Mediumship, Mysticism, and Hypno-Reiki to her clients in Maine, and in areas around the US and in Canada, where she travels. A lover of pets, they are her greatest teachers and these unconditionally loving creatures often chime in on a reading in addition to the Angels, Guides and loved ones who provide resolution and answers for each of her clients. Elizabeth is also an author with much spiritual wisdom to impart and is currently working on a book. If you'd like to be a recipient of her unique Psychic Wisdom, find peace and receive answers that will also benefit your highest good, you can reach Elizabeth at Psychic Access.