Yes, You Are Psychic!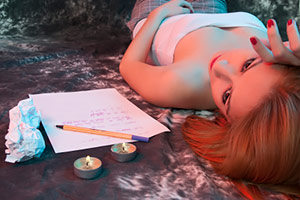 Most of us are raised to think that only a lucky few of us have psychic gifts. The truth is, nearly everyone does!
Throughout our lives, we have moments when we simply know something is going to happen, whether it's as simple as our phone ringing, or as specific as the final score or outcome of a sporting event.
What we think are coincidences, hunches, or lucky breaks, are actually flashes of our innate psychic powers.
Like any talent, psychic ability has to be practiced. In our busy 21st century world, with its overload of stimuli, this can be difficult. However, it doesn't have to be.
The most important step to take is to simply listen. Use all five senses to awaken your sixth sense. When you wake up, really focus. Are there birds singing outside? Is the wind blowing? What do you smell? All of these incoming signals contain messages, and psychic ability is the talent to read between the lines.
Everyone is born with psychic abilities.  It's just a matter of knowing how to tap into it ~ Julien Offray de La Mettrie
Keeping a journal is also very useful. The journal doesn't have to be in any particular style or format; it is simply a way to record thoughts, insights, and observations. It can even be pictures if you're a visual thinker. As you progress in your journal, you'll start to notice patterns emerging. These patterns are part of your psychic thinking. Pay attention to them, and to what they represent.
Many people also find channeling devices, such as candles or crystals, to help them as they develop their psychic powers. Be sure and select one that is right for you and what you hope to accomplish. For example, if you are trying to understand your dreams better, a clear stone like quartz works best. Colors matter, so choose the right one. So does intention: make sure you are not using your abilities to cause intentional harm.
Don't expect too much too fast. Like any skill, psychic ability has to be developed over time, and even the most accomplished psychics will tell you no one ever really masters their talent (if they're being honest, that is!) Make time each day to practice and you'll be rewarded with a long life of gradually increasing psychic understanding.

About The Author: Mystic Shelley

Mystic Shelley is a Psychic Medium. She has been reading for over 15 years helping and guiding people. She uses my 8 spirit Guides during her readings. She reads in the area of love, relationships, career, money and all matters of love. She will give you only honest and direct answers. Get a reading with Mystic Shelley now at PsychicAccess.com


This site uses Akismet to reduce spam. Learn how your comment data is processed.