Past Life Love Difficulties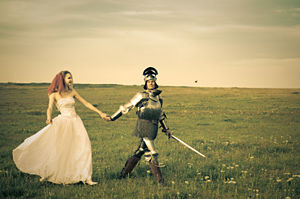 Have you ever wondered why you feel so connected to a certain person, but don't know why? It's that 'familiar' feeling when your talking to someone for the first time. You may also experience déjà vu – that you have known or been with this person before, although you have never met them. You may even see flashes of yourself with that person in a different country, or distant place and time.
These experiences come from cell memory connected to past lives. In that moment you are tapping into a past life with that person.
When this happens it's important to realize that there is still soul growth that needs to take place and that is why you both met up again in this life. Sometimes it's not a positive experience, but you need to go through some potentially unpleasant experiences with that person. This may come in the form of romantic relationship challenges, or reaching that person on a deeper level by learning how to be true friends. Certain things need to take place between souls, and sometimes much work needs to be done and it may take many lifetimes.
Real love stories never have endings ~Richard Bach
Many people stay stuck in bad relationships that are not going anywhere, because they fear change. My advice to anyone in such a relationship that has become toxic is to take a deep breath and ask yourself: what is the best for my health and well-being?
If the partner you're with is not making you happy, but you do love that person, you may need to take a huge step back and then maybe start over with only the seeds of friendship. If you can start fresh like that, then maybe that is what needs to take place. It's okay! Sometimes the best relationships need the most work. Through prayer, faith and trusting that it is the right thing to do, and taking decisive action, you will see that it's the only way to go. Otherwise you may sever all communication,  and end in a horrible divorce or break-up. It could get ugly.
So, if it's real love, then love the person enough to say, "I want you to be happy and we are not happy together like this. We need some time apart and see if there is a better way to approach one another. Maybe we need to just be friends and love each other enough to give each other the time and space we both need to be happy".
If you both respect each other and love each other, some time apart will make the heart grow fonder. In time, if it is meant to be, you will find better ways to communicate and rekindle your connection.

About The Author: Moon Goddess

Moon Goddess is a third generation empathic healer and seer. She started to give healing readings to people more than 20 years ago. She has always been interested and studied all things metaphysical from a young age. Being hypersensitive she can feel and see things before they happen. Utilizing the Tarot, and with the help of her Guides, she is a source of support for many people all over the world. After he passed over, her grandfather kept his promise and came back to say goodbye and gave her the most amazing experience. Moon knows there truly is a Heaven, and it is wonderful! Sharing her experience has helped many people after they have lost someone, or anyone experiencing some form of grief. Get a reading with Moon Goddess now at PsychicAccess.com.