Protecting Your Home From Negative Energy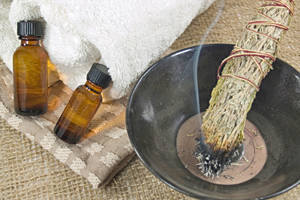 My next-door neighbor Carla recently asked me to smudge her home and bless it, because she felt there was a lot of negative energy there. She could just feel it. People live below her that she can hear until late hours in the night, using fowl language, and they would smoke too, so that would come up through the floor boards and it just makes her so sick and causes her to have headaches. Apart from that there are 'cobwebs' of trapped negative energy that she wanted me to some and clean out.
Carla has been dealing with the ups and downs of depression for as long I've known her. She is one of the sweetest people you could ever hope to meet, let alone have as a neighbor. She is very sweet and always there if you need her. She will be very social at times, inviting friends from church over and entertaining friends regularly for several weeks, and then she would become overwhelmed by the chaos and drama of the people around her and get depressed. Then she falls into a depression and you won't see her for weeks, if not months.
The best lightning rod for your protection is your own spine ~ Ralph Waldo Emerson
I told her I felt that she needed to protect herself energetically and shared with her ways that she can do this. I shared with her that sometimes, when we are around people we can pick up some of their negativity. Even if they are seemingly good people, who go to church and so on, it doesn't necessarily mean that these people are free from negative attachments, or negative energy that can attach to you.
I told her I would be more than willing to smudge her home with sage and clear some if not all of the negative trapped energy that had been stored up in her home. She quickly agreed to have me do this cleansing, as she had heard of this and had been wanting to get it done for a long time. She felt there was a lot of negative energy in her home and asked that I even use some Holy water, which I got from a Catholic church nearby.
I smudged her and her home, inside and outside, and used Holy water, and successfully blessed her home. She said a few necessary prayers and she soon told me that she can feel the difference. The energy was lighter and not so weighted down, she felt a calmness and lightness of being. She also said her home felt like it was her home for the first time!
I was so happy to have helped her. I can't emphasize enough how important it is to be very careful who you allow in your home. Protect not only your home, but also yourself. It's so important on all levels. If you this at your home, you must keep up with the smudging. I recommend once a month and sometimes using sea salt also. I share ways to do this during my readings ay Psychic Access if asked.
He is the happiest, be he king or peasant, who finds peace in his home ~ Johann Wolfgang von Goethe
Sometimes it can even be people we love who bring negative energy to our homes and into our energetic space, and we can suffer not even knowing it. We purchase expensive homeowner's insurance and car protection, but it hardly costs anything to get a smudge stick and go around your home. It costs hardly anything to bless your home and invoke the white light of protection around ourselves, to protect our own energy from being attacked by energy vampires.
This is especially important when you invite many people into your home. Just because they go to church or sing in the choir every Sunday does not mean they cannot have a negative effect on your space. Everyone has energy around them, whether it be positive or negative, and it can be transferred to you. So, protect yourself. Be mindful who you allow into your home and protect yourself energetically.
Also bear in mind that every interaction you have outside of your home can come back attached to you. The energy of anyone you interact with can attach itself to you. Personally, I go with the less is more policy when it comes to interacting with people. Since I began to be more mindful of this, I have never felt better – more balanced and happier. I have learned to say no and not to be so much of a 'people pleaser'. My health has improved and I have more energy and feel more free. If you feel depressed and weighed down, you may want to smudge your home and eliminate toxic people from your life. See how that works for you!

About The Author: Moon Goddess

Moon Goddess is a third generation empathic healer and seer. She started to give healing readings to people more than 20 years ago. She has always been interested and studied all things metaphysical from a young age. Being hypersensitive she can feel and see things before they happen. Utilizing the Tarot, and with the help of her Guides, she is a source of support for many people all over the world. After he passed over, her grandfather kept his promise and came back to say goodbye and gave her the most amazing experience. Moon knows there truly is a Heaven, and it is wonderful! Sharing her experience has helped many people after they have lost someone, or anyone experiencing some form of grief. Get a reading with Moon Goddess now at PsychicAccess.com.