The Synchronicity Of Signs
Published
December 5, 2011
|
By
Asherah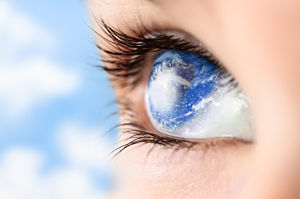 Signs are everywhere, all around us, all the time. But paying attention to them, and actually knowing what to look for, is another matter entirely.
The most important thing in correctly reading the signs in your life is to become open to them. I don't mean become open to what you want the particular answer to be.
Asking a Higher Power for signs means you leave your soul open to whatever the Higher Power chooses to show you, not only what you wish to see. You won't see anything if you keep up that kind of thought process. It defeats Purpose, and Purpose can never be defeated. It is a losing battle if ever there was one.
When asking for a sign, be very specific in how you ask too, or you will have the kind of thing happen to you which happened to me once, when I was asking God for a sign. I was driving down the street conversing with God in my mind, "Show me A Sign, God!" God must have laughed, I think, because a license plate immediately pulled up beside me, with a car attached to it. I describe it in this way, because the license plate read, "A SIGN."
I rest my case. Enough said.
Jesus told him, 'Unless you people see signs and wonders, you will never believe.' ~ John 4:48
A few weeks ago I was clearing out one of my email accounts and came across the address of a long ago client, whom I had read for two or three times. I remember she intimidated me at first, until I saw that her gruff exterior covered up a super soft heart. I wondered whether this was a sign to contact her. Ultimately I decided against it. I figured if it was meant to be she would come to me somehow.
Exactly one week later I was walking a dog and saw a woman who looked exactly like her, but it wasn't. I thought, "Hmm, what a coincidence, I wonder if I should really send her an email?"
"No," said The Voices.
The following week I got a text from a regular client, who has been with me a long time. I may not see her for 6 months at a time, but I have known her for ten years or more. She is sending someone to me for a reading, she wrote. I may not remember her, but I read for this person many years ago. "Expect a text today," she concluded. Five minutes later I get said text, and end up speaking to the client on the phone. We then set an appointment for the coming Monday.
Monday comes and she shows up at my door, and yes, who do you think it is? None other than the person I had being having signs about for the two or three weeks prior! I couldn't believe the synchronicity and when I told her, she couldn't believe it either. It was meant for her to come and see me when she did. It had been many years and after doing her astrology forecast chart, I could see why she had come when she did. A new cycle had started for her two weeks previously, right around the time I started seeing signs about her.
The angels do their best to get our attention and to communicate with us. In this way, they help us heal our own lives. However, we often discount the signs they give us, writing them off as mere coincidences or our imagination ~ Doreen Virtue
Signs are just that – signs. They may mark a final destination, or just simply be a landmark meant to show you which direction you are going in. A sign can be good premonition, or a bad omen, or simply indifferent (let us always remember the irony of that license plate), but they are still a sign from something bigger than we are. This is why we ask for signs, because we are asking for an answer or a directive from God, or Spirit – whomever or whatever you choose to believe in.
If you believe, and you ask for a sign, be receptive to it. If it isn't clear to you, be very specific in how you ask and seek your answer again. You can rest assured you will receive an answer. Take it at face value, don't try to read too much into it. Too often, by over-thinking things, we lose sight of what is most important. The very essence of the message can be lost by trying to fit it into what we perceive we need.
Let your faith be the huge sign that it is meant to be, that you trust all things in due time. Trust that what is meant to be, will be. Que sera, sera.
About The Author: Asherah

Asherah is a natural born psychic empath born and raised in Kingston Jamaica. An ordained Reverend and High Priestess, Asherah can easily tap into your real truth and help you to see clearly, releasing attachment to outcome by simply focusing on where you are now. Using tarot, numerology astrology and more..you can learn how to communicate your needs today! You can get a psychic reading from Asherah at PsychicAccess.com.


Posted in

Astrology, Intuition, Metaphysics, Paranormal Phenomena, Psychic Phenomena, Self-Help, Spirituality
|
Tagged

astrology, beliefs, coincidence, destiny, faith, fate, god, guidance, higher consciousness, higher self, horoscopes, inner guidance, law of least effort, life path, luck, omen, prayer, precognition, predestination, premonition, professional psychics, psychic reading, psychic readings, signals, signs, spiritual awareness, spiritual messages, spirituality, synchronicity, thoughts, trust
One Response to The Synchronicity Of Signs
This site uses Akismet to reduce spam. Learn how your comment data is processed.