Ectoplasm The Basis Of Spirit Manifestation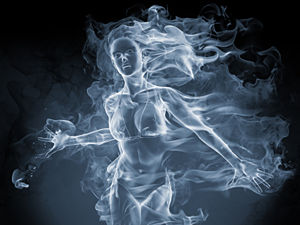 Ectoplasm is an outer layer of protoplasm; one could say it is an etherealized protoplasm. Protoplasm is the basis of all plant and animal life.
Physical mediumship requires either a superabundance of one of the chemicals contained in protoplasm, or the addition of an unknown chemical built up by spirit power. This substance in its many forms is used as the basis of all physical spirit manifestation.
It forms the body and clothing of a materialized spirit. It is also used in telekinesis and automatic writing. In fact, even the tiniest of spirit raps cannot be produced without the aid of a physical body from which is drawn the necessary ectoplasm.
Spirits, without the use of a material instrument, are powerless to produce a sound or anything that comes into the range of our five physical senses, for they live in a higher range of vibration of which we are unconscious. To produce any form of sound they need ectoplasm. Ectoplasm is the key to how spiritual entities manifest once again in a body that can be seen and even, sometimes, touched.
This ectoplasmic formation at the expense of the physiological organism of the medium is now beyond all dispute…It is prodigiously strange, prodigiously unusual, and it would seem so unlikely as to be incredible; but we must give in to the facts…Yes, it is absurd; but no matter – it is true ~ Charles Robert Richet
I have seen them often over the years. I have heard them, as well, including their words, music and even drumming. Some have been my own loved ones – often as they leave their bodies to cross over to another plane. Others I have never known and some left decades or even centuries ago.
About The Author: Mountain Sage

For thirty-six years, Mountain Sage has been providing her much sought after insight, coaching and spiritual counseling to clients locally, as well as internationally. Many other psychics, spiritual counselors and healers, professionals, celebrities, and individuals of all backgrounds, have relied on her gifts to find their way through muddled times. Mountain Sage is the student of an exalted Gurugi in Bombay, and Shaman of the Fireheart Sweat Lodge in Santa Fe, New Mexico. Her extensive training includes Oracle, Healing, Universal Laws & Principles, the Sacred Circle and Psychic Shielding. She specializes in Ascended Masters, Altars, and Minerals. She holds the great honor of Oracle Carrier by her tribe due to her outstanding psychic ability, passion for the psychic realm, integrity and sacred work. She blends mystical understanding with practical application, and her art is connecting with the Divine. Get a psychic reading with Mountain Sage at PsychicAccess.com.