The Ghost Children Of San Antonio, Texas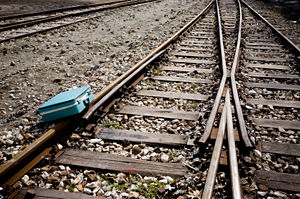 Since it was Halloween a few days ago, I thought a ghost story would be appropriate. Although I could probably write a blog a day for months on my experiences with ghosts, I've chosen my favorite ghost story to share.
It happened around 18 years ago, while I was visiting a friend in San Antonio, Texas. I dropped my friend off at work and picked up her sister Lydia, who was from Texas.  We set out to see the sites.
After seeing the Alamo and the River Walk, Lydia suggested we go see Mission Park located off of Military, a major, busy street in San Antonio. Lydia proceeded to tell me the story of a bus load of 1st and 2nd graders, some 50 years earlier, whose bus got stuck on the railroad tracks. The story goes that a train came and hit the bus, killing the children.
Now, how true the story is, I can't say for sure, but upon driving through the neighborhood, just beyond the park, all of the streets were named after children, such as "Billy Joe Bob Street". Lydia said the streets were named for the children who died in the crash.
Reality is determined not by what scientists or anyone else says or believes, but by what the evidence reveals to us ~ Alan Hale
Right before we got to the park, Lydia had me stop off at a corner mart and she went inside and bought a small container of baby powder. I asked what the powder was for and she smiled secretively and said, "You'll see".
Our drive through the pretty park went ahead non-eventful, until we arrived at what appeared to be the end of the road, and a single set of train tracks that rounded a corner.
We drove around the corner and beyond the tracks. About a block or so up the road, Lydia told me to turn the car around, facing the train tracks and shut the car off. So I did. I was driving a manual transmission car. I left the car in neutral, and shut it off.
Within seconds, the car began to move uphill towards the tracks, until we went up, up and over the tracks and around the corner. Then Lydia said, "Stop the car and get out". So, we got out and she pulled out the baby powder and sprinkled it on the bumper of the car, and before my eyes, little tiny fingerprints began to appear!
I think that it is very good for people to talk about their paranormal experiences and share stories about things that they cannot explain ~ Rosemary Ellen Guiley
Lydia, said the children didn't want anyone else to get stuck on the tracks so they pushed anyone going in the direction they were going, over the tracks, so no one else would be harmed. Even though the tracks hadn't been used in years.
I cannot put into words my excitement! I couldn't wait to call everyone I knew, to tell them about these incredible train tracks and ghost children. I called my mother first. She said, "Toni Jo, that's a great story, but as much as I'd like to believe you…..well…it all sounds so strange".
About 3 months later, I received a call from my mom, she excitedly told me she now believed me about the kids and the tracks, as she had just watched a special about it on the television show Unsolved Mysteries. Go figure.
I have to admit, I visited those tracks every single day I was in San Antonio, Texas, for about 3 weeks. And, every day without any hesitation, those children pushed the car up hill and over the tracks. I even experimented with the baby powder. I washed the car before going, and placed the powder on the car before having them push it over the tracks. Without failure, the tiny hand prints were always there.
About The Author: Dawn Star

Dawn Star is a Master Tarot reader, relationship specialist, numerology and palm reading expert from Nebraska who rose to her full psychic potential after coming back from a near death experience. Powerful mentors on the other side gave her a crash course on her abilities, and then brought her back with a powerful mission to benefit mankind through her psychic talents. In her twenty year practice, she has solved murders, found missing children and watched traumatic events unfold, ahead of time. A seeker of Truth, Dawn Star's stunning Truths can be made available to you with a reading at PsychicAccess.com.


2 Responses to The Ghost Children Of San Antonio, Texas