Transform Your Life With Daily Spiritual Power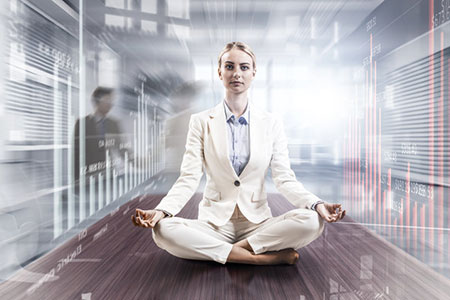 If you are seeking change in your life, you must create the change. You alone create your reality. Your future happiness, joy and fulfillment does not depend on others. It truly depends on you, and you only. But it is not necessary for you to plan or control exactly how everything will change or work out. Leave the ultimate manifestation and transformation to Spirit and the Divine. But you must at least believe your life can change, and will change. And the best way to ensure such transformational changes in your life is to spiritual practice a part of your daily lifestyle.
My daily routine, which rarely changes, includes the following spiritual practices. Upon awakening I immediately do my affirmation prayer for the day.
Thank you, Universe for this amazing, positive, successful, and abundant day ahead of me. I know it will be better than yesterday and I am ready!
Thank you, Archangel Michael for putting your cloak of protection around me, from above my head to below my feet. May it shield me from all negative energy and bounce it back in to the ethers, instead of attaching itself to me during my day.
I also ask this for my partner, children and grandchildren. Amen.

After my prayer, I am grounded and centered to confidently go about my daily business. Even if I have nothing major going on, I will still get dressed as if I have something important to do that day. This further 'lifts my energy,' because as I look in the mirror and I feel prepared anything. I know I am going to be successful, happy and in a good place for the day.
One I am turned-out for the day, and before I start working, I sit at my desk and study at least one chapter in a spiritual book, as I need this knowledge every day in my work with my clients all over the world. Some of my favorite inspirational sources to date are Psycho-Cybernetics by Maxwell Maltz; You2 by Price Pritchett; The Power of Awareness by Neville Goddard; You Can Heal Your Life by Louise Hay; and The Four Agreements by Don Miguel Ruiz. But I have many others in my personal library.
There isn't anything except your own life that can be used as ground for your spiritual practice. Spiritual practice is your life, twenty-four hours a day ~ Pema Chodron
If an inspirational, spiritual, or self-help book calls your name, pick it up and read just one chapter per day. Don't just glance or speed read, take the time to read it with care and truly understand what the author is saying. Then ask yourself: what did I learn from this chapter today? This opens your mind to self-growth and soul wisdom.
My next order of business is affirmation and gratitude time. Daily affirmations are imperative in life, as they can change your entire day – even when things are not going right for you. Here are a few examples.
Today I will sit in powerful silence knowing I am protected from all who try to knock me down.
I am confident, powerful and secure.
Today I will see only the blessings in my life and give thanks for each one.
Gratitude will be my attitude for today.
Take the time to write your affirmations down in your journal. Think about them as you write each one and feel the positive energy it inspires within you.
Next, I count my blessings and give thanks for at least five things, every morning, and also every evening. Some days it feels as if there is nothing much to be thankful for, but there always is, so keep going. Even if you just appreciate the fact that you have eyesight, ten working fingers and two feet that still walk – it's something and somewhere to start.
Encountering sufferings will definitely contribute to the elevation of your spiritual practice, provided you are able to transform calamity and misfortune into the path ~ Dalai Lama
Be consistent with this in the morning and then when you do your nighttime gratitude. I use this time to give thanks for five things that are not manifested in my reality yet, but are current intentions or goals. Give thanks as if these things are already present I your life, as if you have already achieved them. This may seem a little strange at first, but the more you practice it, the more open your aura  will become to receive. You will notice after time that little things here and there start to happen.
Never be afraid that your gratitude is 'too much,' or that your dreams are impossible or beyond reality. After all, look at Richard Branson who does not have a high school education and has flown to the edge of space. Anything is possible if you have faith and believe.
My daily spiritual routine does mean getting up an hour earlier to get it all done in peace and quiet, but it is so worth it! My life has changed dramatically over the years. I have released much of the trauma of abuse, pain and grief in my life and grown to truly love who I am, and what I do.
If fact, this past year I have had my best year so far, courtesy of the pandemic lockdowns and social restrictions. It gave me more time to concentrate on who I am, what I still needed to heal and release, and what I wish for in the future. You too can achieve this and if you need help, I am always here to answer your questions and guide you. Blessings to you always.

About The Author: Sheri

Sheri is an international psychic and angel reader who provides clear answers on finance, career, relationships, manifesting your dreams, and working-out the kinks of life. Since 2004, Sheri is the owner on an International Spiritual Healing Centre where she runs her Reiki practice - either working on clients or teaching them the levels of Usui Reiki. She utilizes her office space for readings that are conducted via mail, phone, chat or live. Since 2008, she's honed her gifts on various psychic service websites, where she's provided telephone, chat or email readings. She also works on a spiritual network for people who have suffered horrific loss, applying her own first-hand experiences with such tragedies. Sheri's work has been described as honest, compassionate and life-transforming and she would like to see all of her clients soar free to a higher level of spirituality and growth, and exponentially change the world to the best it can be. You can get a psychic reading from Sheri at PsychicAccess.com.