Last Quarter Mars Transit Report 2021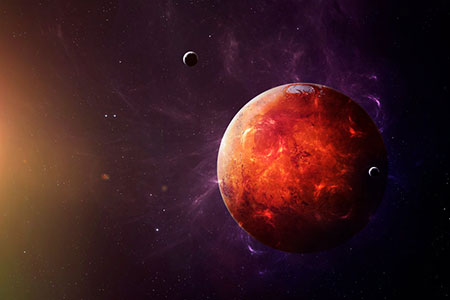 The red planet, fiery Mars, rules war, agriculture, competition, defense, our passions, and how we react. The positive side of Mars is bright, energetic, and driven, while the more negative aspects indicate aggression, impulsiveness, and bullying.
Astrologically, Mars cycles through each sign every six weeks unless it's in retrograde motion where it can stay for a longer period of time. For the rest of 2021, Mars will enter the signs of Libra, Scorpio, and Sagittarius.
Earlier this month, on September 14th, Mars moved into Libra which is now highlighting our relationships and social connections of all kinds. There is now a desire to create balance and compromise where there has been lingering conflicts and unresolved issues.
Until Mars transits from Libra into Scorpio at the end of next month, a more passive approach is recommended and think twice before making a decision. Being methodical and strategic in a step-by-step fashion will be the best route to take.
On October 30th, Mars changes signs and moves into the watery sign of Scorpio, where the energy becomes more intense and emotional. We will want to experience life on a deeper level, know the truth , and feel more drawn to things that stimulates our senses. People tend to be more dramatic or calculating under the Mars in Scorpio influence. It's best to avoid any situations that could trigger you or have you wanting to seek revenge.
Lastly, on December 13th, Mars goes into Sagittarius where things can get more exciting and unpredictable. Mars is typically compatible with fire signs, so it feels at home in Sagittarius. We will be craving more adventure and spontaneity towards the end of the year, and some of us may be more prone to impatience.
Mars in Libra is all about being strategic, diplomatic, and fair. And this is not a time to sit back and be silent. ~ Elizabeth Gulino
Our interactions with others will be more direct and even level-headed people may seem more opinionated and confrontational than usual. Social justice is also a strong theme for this transit and people will want to stand up for what they believe in.
The best way to channel this energy is to remain centered and open-minded. Sagittarius is all about seeing the bigger picture and learning to accept others for who they are.
Instead of engaging in arguments or distractions, find a healthy, constructive outlet like exercise, any creative endeavor, or getting out in nature if any issues surface during these Mars transits.

About The Author: Laura

Attracting people from all walks of life, Laura has always been the type others come to for advice and direction. An initiated shaman, she's helped others to transcend fear and resolve dark aspects to achieve greatness in life and overcome limitations from the past.Spiritually, she's a mixed bag of traditional meets mystical, blending the best parts of Christian, Jewish and Muslim faiths with intuition and magic. She's been referred to as a witch, but considers herself a shaman. She uses her psychic gifts and divination tools to help you see the truth, awaken your spirit and overcome any problem. Contact Laura for a psychic reading at PsychicAccess.com