Nurture Your Friendships In These Difficult Times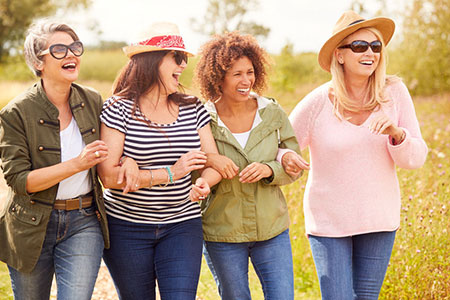 My how time flies! And the older I become, the quicker it seems to go. Looking at my calendar this morning I was reminded that we are now well into the Fall, or Autumn. The year 2020 has indeed had its particular challenges, and soon we will all have to be ready for yet another journey around the Sun.
What has 2020 been teaching you? For me, the difficulties and drama of this year reminded me how important our relationships are. Our relationships with our partners, children, relatives, coworkers and friends, as well as our relationship with nature and spirit.
This crazy year made me realize once again how easily we take for granted the people who add value to our lives. This is especially true of our friends, who basically have no obligation to be a part of our lives. For many of us, these are the people who have kept us sane and kept us going during the Covid-19 pandemic. They are often the people who constantly enhance our lives no end, month after month, and year after year. But do we make enough of an effort to always look out for them too?
Please consider the following when it comes to nurturing your friendships, in good times and bad. It will help them to blossom and grow.
Show Your Friends They Matter
While lockdowns and social distancing may have prevented you from seeing your friends in person, you can still show them how much you care by sending a simple text, a small gift, or hand-written note, or even a video message, just to let them know you are thinking of them during these challenging times. You may never know how much such a small gesture might mean to them.
Each friend represents a world in us, a world possibly not born until they arrive, and it is only by this meeting that a new world is born ~ Anais Nin
Make Your Friends A Priority
Being a true friend means having a sustained, and positive presence in someone's life. I will be the first to admit that over the years I could have done a much better job of prioritizing my friendships. Today, however, I have come to learn that keeping a regular routine with my friends is essential, and therefore I make an effort to connect with them regularly via either an online or offline chat, even if it is merely to catch up, which helps to keep the friendship flourishing.
Take Time To Talk
Friends must talk. That is what friendships are there for. This does not mean, however, that you need to constantly vent all your deepest feelings, fears and frustrations to your friends. They have enough of their own stuff to deal with. Instead, all you need to do is simply be there for them. Make time to listen and to interact. Take time out for a weekly chat, and really practice the art of listening. This will make your friends feel sincerely loved and cared about.
Friends Are Honest With Each Other
Honesty is always the best policy, particularly in friendships.  I remember when I was only 28 years old and my friend at the time met her second husband. I could instantly see that the new boyfriend did not have her best interest at heart. All he saw in her was an attractive, loving woman, with a well-paying job, who owned her own home. He was turning on the charm, and they were married in next to no time. All I can say is, she lived to regret it. And so did I! My friend may not have wanted to hear my honest opinion about the "love of her life" at the time, but today I do believe she would have appreciated it. I should have said something.
Friendship is the hardest thing in the world to explain. It's not something you learn in school. But if you haven't learned the meaning of friendship, you really haven't learned anything ~ Muhammad Ali
Practice The Art Of Tolerance
It could be that your friend's fears and concerns are different from your own? After all, what bothers one person does not necessarily bother another, right?  Even so, you should never dismiss your friend's fears or feelings, or belittle them.  Instead, try to see things from their personal point of view – even if it is sometimes hard. Try to 'tolerate' their worries in life, even though they may not be similar to you own. Someday they will return the favor. Intolerance and judgment only leads to tension, conflict, distrust, and hurt feelings, and there is enough of that in the world at the moment, is there not?
Be Compassionate And Kind To Your Friends
With all the problems the world is facing at the moment, a lot of people are under considerable stress. The best way for you to help your friend, is to alleviate some of their stress. Let them talk about their fears in an uninterrupted way, while listening intently. This will really show that you care. Follow this up by offering ways and means in which you could help in their given situation. Doing so will let your friends know that you are not 'a friend in need,' but a friend indeed!
Be There In Times Of Need
Sadly, we all have a crisis to deal with from time to time.  However, real friends turn up in such situations, and when they do, they look at the given situation, and offer sincere advice and help when and where they can. While it cannot and should not be expected of you to solve your friend's problems, simple acts of kindness, such as providing transport for a hospital visit, running small errands, or picking up the kids from school, can never be overlooked.
You can make more friends in two months by becoming interested in other people than you can in two years by trying to get other people interested in you ~ Dale Carnegie
Avoid Fair-Weather Friends
Remember that whatever you give as a friend, you also need to expect as a friend, otherwise there is no balance in your friendship. Furthermore, where there is no sense of balance, there can be no harmony, sincerity or commitment.
Also, according to spiritual law, while you came here to be there for your fellow man, you did not come here to be used or taken for granted. Therefore, you must choose your friends wisely. Trust your gut in your social interactions, for this is how spirit shall guide you to the best friends – those who will enhance and add true value to your life, and you to theirs.

About The Author: Lucinda

Lucinda is a highly trained Intuitive and Empath, living in a beautiful village in North Yorkshire, England. She possesses the rare gift of understanding a client's personal pain and has been through many challenges, herself, which has only made her stronger! It is both her calling and her happiness to help those in need. And whenever she needs a little help herself, her Guides are always there to assist in her development and provide clear interpretations for her clients. Prediction has always been a great tool she could count on to accurately foretell events, but Lucinda also draws on her expertise with Dream Interpretation, Numerology, Angel Cards, Law of Attraction and Life Coaching to provide full and detailed solutions to any problem. A member of AMORC and Beyond Freedom Evolution, she provides inspiration, education and personal support for spiritual development. If you'd like answers or want to attract your desires, you can find Lucinda at PsychicAccess.com.