Now Is The Time For Love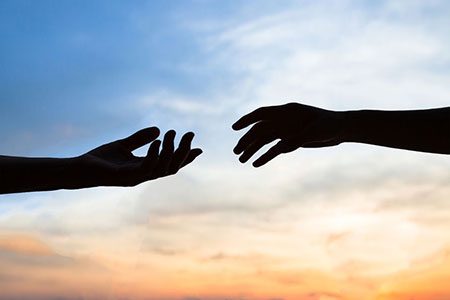 There is a lot of anxiety in our world at the moment, due to the ongoing pandemic of the coronavirus, or Covid-19. When this kind of crisis arises, it affects us in the deepest and most primal parts of our inner being. And who we choose to be in such a moment truly matters.
I believe that now is a time for healing. Not only from physical disease, but also from a state of unconsciousness and disconnection that many of us have been fostering, long before we even knew terms like 'social distancing' and 'self-isolation.' It seems to me as though these terms are just the articulation of an already existing condition that has been in existence long before Covid-19 arrived.
If you are currently fearful and anxious, it is understandable. Be patient and gentle with yourself. If you are struggling to cope, do not hesitate to pick up the phone and reach out to someone that you trust. If you feel isolated, now is the time to freely speak the words, "I love you." If you have something of value to share, now is the time to give. If you can assist, now is the time to help. Now is the time for love.
There are those that would perpetuate fear at this time. I recommend not listening to such negative voices. Abstain from indulging in conspiracy theories, and trust that, as it is written in Luke 8:17, "There is nothing hidden that will not be revealed, and nothing concealed that will not be known."
Instead, turn your ear to voices of unconditional love, kindness and compassion. If you have enough 'soul force,' become that voice for others. As it is written in 1 John 4:18, "There is no fear in love. But perfect love drives out fear."
When we make the choice to fill our heart space with unconditional love, our worlds blossom into a beauty far greater than we have known ~ Rio Godfrey
Be wise during this time, but do not allow the need for social distancing to increase the pain of isolation. Stay at home, but stay in touch. Listen to the voices of both reason and wisdom. Pray and meditate, for as it is written in 2 Corinthians 6:2, "Today is the day of salvation." The point of power is in this moment. It is also written in 1 Corinthians 13:13 that, "Three things will last forever: faith, hope, and love. And the greatest of these is love."
Those of us who have firm religious or spiritual belief system know that faith can 'move mountains.' Faith, when properly applied, can create anything. In modern times, there is much information available about The Law of Attraction, and the process of manifestation and deliberate creating. Many people have learned to leverage faith, or unyielding confidence and belief, to accomplish many things.
Hope is the capacity to envision something greater. Hope awakens compassion and cultivates a vision beyond the self. Hope is the advancement from goodwill for the self, to goodwill for all humankind. And love is the fulfillment of that greater vision.
I believe that love is the great healing force. Love is the answer to every question we will ever have. Love is the understanding that there is no 'us' and 'them.' There is only us. Love brings unity. And the practitioner dedicated to love knows that when others are whole, I am also whole.
Love expects no reward. Love knows no fear. Love Divine gives – does not demand. Love thinks no evil; imputes no motive. To Love is to share and serve ~ Swami Sivananda
Love gives us the recognition that we can go beyond just conquering a spreading virus – we can also heal our lives. Love is the way to ultimately banish terms like 'social distancing' and 'self-isolation' back to the nothingness from whence it came.
One of my greatest teachers, Louise L. Hay, once said this, "If you do not know what to do, love." This is the best advice I can give you today. Love yourself, and love others. For this is only a fleeting moment in the ocean of time, and what we do with this moment matters.
If you need someone to talk to during this time, you know where to find me. I am available. Louise Hay also said, "In the infinity of life where we dwell, all is perfect, whole, and complete." Take a deep breath. You are safe. All is well, and I love you.

About The Author: Cosmic Coach

Cosmic Coach (James) is a Christian Minister, a teacher and an Energy Guide. He has been seeing and talking with Angels and Guides since he was 7. As a teen, it dawned on him the unique connection he had. He prayed for others at his family's Christian church, and received direct messages and healing energy from Spirit. As a young adult, he became ordained and is still attached to the Christian Church today. After mentoring with a remarkable psychic woman, he developed his own tools and began his full-time psychic practice. James has mastered many techniques in his psychic practice to connect with the unique heart center of each of his clients. He is a Reiki Master of many traditions, who is adept at crystal healing, card readings, and delivering detailed messages from Angels and Guides. James is always expanding the base of his knowledge to broaden his reach and serve as many clients as possible. To experience a unique reading personally designed for you, you can find Cosmic Coach at PsychicAccess.com.