Aromatherapy For Stress Relief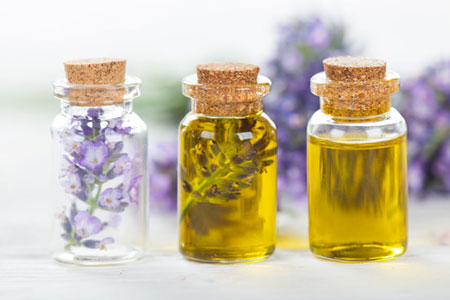 I have been using essential oils for many years. In the 1990s, I made it a point to study them and become certified. At that time aromatherapy was already very popular in Europe, where it was seen as a viable adjunct therapy. Science has gained more insight on the impact of scent on the brain, our emotions and our well-being.
Stress originates from the limbic system, and our sense of smell is the only one that is linked to this part of the brain. Before we might even become aware of the effects an essential oil or fragrance may have on us, the molecules from the essential oils we smell are already at work on our limbic lobe.
Successful real estate agents know the power of smell, and often suggest you bake some chocolate chip cookies, or brew some fresh coffee before an open house, or simply simmer cloves, cinnamon, and orange peels in a small pot of boiling water, to evoke a homey, welcoming smell.
Scents also trigger memories. A scent from your childhood, that created a warm, secure, peaceful feeling, is something you might want to re-create with essential oils.
When the mind relaxes, the body follows. We all experience stress at times, and although essential oils cannot magically make a situation disappear, one may benefit from the relaxation effects that aromatherapy offers.
Trust that the oils are working side-by-side to heal, regenerate, and teach you. The more you use them, the more they'll reveal their secrets to you ~ Elana Millman
Once you find a scent that works to create relaxation for you, stick with it. Over time, you will deeply associate that smell with feeling calmer, more relaxed, and grounded. At some point, even thinking of the scent will trigger your parasympathetic nervous system.
I strongly recommend visiting a store where you can sample the scents initially, before ordering something you are unfamiliar with. A product may be purported to relax you, but if you personally find the scent too sweet, strong, sharp, or otherwise unpleasant, it may instead irritate or annoy you, rather than calm you.
There are now many ways to purchase quality brands of oils, that are not synthetic and with excellent pricing. You can use single oils, or blend two or three together, when you are starting out, until you discover which are your favorite.
If you are new to aromatherapy be cautious of buying pre-blended oils that contain several essential oils combined. If you do purchase these blends, be sure you research all of the oils included, to be sure that they appeal to you.
Aromatherapy is a caring, hands on therapy which seeks to induce relaxation, to increase energy, to reduce the effects of stress and to restore lost balance to mind, body, and soul ~ Robert Tisserand
I tend to keep the following oils on hand, specifically for dealing with stress, so that I can create a variety of combinations, depending on  my mood or preference. These combinations are meant to be always used in a diffuser. If you don't have one of these yet, consider adding one to your arsenal. They are affordable and readily available. Try out these blends next time you need some stress relief!
Lavender & Frankincense
Frankincense has been used for centuries for medicinal purposes and religious ceremonies, while Lavender is a universal favorite for relaxation. Go easy on the Frankincense, as it is a very powerful scent.
Bergamot & Patchouli
I love Bergamot; it is probably my favorite oil, hands down. I find it very relaxing when diffused on its own, but also enhanced when combined with the very distinct, warm, relaxing scent of Patchouli.
Sweet Orange & Peppermint
Aromatherapists often refer to Orange as the 'smell of happiness,' while Peppermint has a soothing, cooling, refreshing scent that energizes the mind. Combined they are refreshing and uplifting, and also great for stress-relief.
Spearmint & Lemon
Both Spearmint and Lemon are very clean, uplifting scents, and when diffused together they create an immediate sense of freshness and relaxation.
Consider adding aromatherapy into your life, and discover the benefits for your mind and soul.

About The Author: Angelic Heights

Empathic, intuitive, psychic from a very young age, Angelic Heights (Gail) learned well the importance of using her gifts for the highest good. Marriage and a career in the paralegal field occupied her until her early 30's. Accurate, compassionate and direct, her focus now is entirely on enlightening, uplifting, inspiring and guiding those who seek her counsel. Gail believes that it is as critical to understand the energy of the people we choose to be involved with. Regardless of the nature of the issue, whether it be romance, career, business, or family, the essential needs of every client always come through clearly in her readings. She is able to hone in very quickly on major concerns and deliver accurate messages and solutions to problems. Get a reading right now with her at PsychicAccess.com