Cast Fear Aside And Embrace Courage!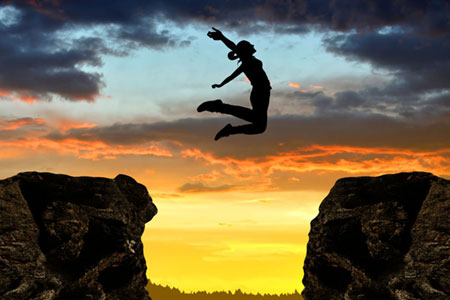 I once read about a woman in a very unhappy relationship. She sought counsel from a highly-revered spiritual leader. In a calming tone, the spiritual guru cautioned that in order to gain marital happiness, the woman would need to let go of the partner she lacked happiness with.
The woman confusingly gazed upon the sage, with her hands tightly tucked under her chair. Again, the holy man repeated that in order for the right man to walk through the door, she would need to let go of the wrong man.
Even more puzzled, the woman confided that she was afraid of being alone. Her teacher, taken aback, turned to the woman and announced that fear was a disease of the mind and the heart –  if allowed, fear would keep her in a state of perpetual unhappiness.
How many times have you missed out on life's many blessings, because you were afraid of moving to a new place, changing career lanes, or ending a relationship with someone who did not honor your greatest dreams? Each of us has experienced these moments of stalemate consciousness in our lives, and each of us has become crippled by fear at some point.
Let me remind you that while a lack of confidence might only slow down your dreams, fear will completely get in the way of the manifestation of your greatest desires and goals. Without personal growth and courage, the formula will not change, and your life will remain the same.
You cannot swim for new horizons until you have courage to lose sight of the shore ~ William Faulkner
In the absence of fear, your soul takes on a new, bold mission to bring to fruition that which is best for your highest good. In the absence of fear, your mind becomes alert, your thoughts align with your heart, and you boldly go where you haven't journeyed before. Without fear, you can let go of old habits that no longer support your vitality, you cast aside relationships that have not served you well, and you welcome the abundance of blessings in every area of your life.
Each of us has a divine birthright that connects us to our divine purpose. When we are in tune with this, our lives take on a higher meaning. We then also attract, and are guided to, healthier and more fulfilling partnerships. We become conscious co-creators in this magnificent universe and wield influence towards progressive change in our world, wherever it may be needed most.
Do not underestimate the purpose of your being here, or the many gifts that await you at a deeply personal level. If you are asking yourself what is in the way of the happiness you long for, the true answer is always fear – a disease of the mind and the heart that we have the power to eradicate.
Courage is not the absence of fear, but rather the judgement that something else is more important than fear ~ Ambrose Redmoon
When the student of that wise sage finally got around to honoring her divine birthright, she was able to cast fear aside, and soon enjoyed a more prosperous relationship with an eager and willing new partner. She also moved to a new town and entered a more fulfilling profession. The blessings that poured into her life were unending. She touched many lives as a result of her newfound courage.
Cast fear aside and embrace courage! If you need help with taking this leap on your own, seek the guidance of one of the advisors at PsychicAccess.com. We are here to help you regain your personal power and reclaim your divine birthright of living wholeheartedly without fear.

About The Author: Shawna

Shawna lives in the American Southwest and is a third generation Spiritualist and Clairvoyant. She recognized her own gifts at a young age, fully embracing her calling as a Clairvoyant, Medium, Spiritual Astrologer, Tarot Reader, Aura Reader, Water Reader, and Healer, training under the tutelage of some truly gifted mentors. Shawna utilizes her natural psychic gifts to help individuals navigate through personal challenges and discover the higher manifestations of their life paths. She's provided positive, spiritually responsible, and ethical readings in-person, over the phone, and online, and has read for clients in Los Angeles--at psychic fairs--and at the Crystal Gaze Spiritual Center, in Lakeland, FL. She is also a trained practitioner in Clinical Herbalism (University of New Mexico), Ayurveda Medicine (San Diego College of Ayurveda), and Reiki. Shawna has channeled messages for political leaders, celebrities, and has accurately predicted the outcome of national campaigns, as well as a big career opportunity for a talented actor that resulted in a Tony Award! If you'd like an enlightening and empowering, full-spectrum of guidance, you can find Shawna at PsychicAccess.com.