Seeking Spirituality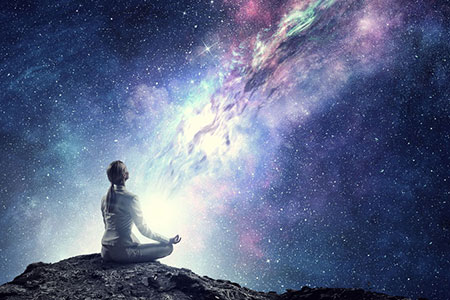 During the years of private study with my teacher, Adyashanti, he used to speak a lot about belief systems and spiritual practices. I learned from him, among other things, that to believe something, as opposed to having a direct experience of it, are two entirely different things. If you believe something because you've been made to feel guilty for being a non-believer, or merely because you think it's the 'right' thing to do, it's likely that this belief will be challenged throughout your life.
However, if you have a direct experience that is of a spiritual nature, you're more likely to remember it and the impact it had on you, and you are more likely to truly believe as a result.  The direct spiritual experiences we have, whether through meditation, dreams, or psychic and paranormal phenomena, are the ones that help us grow as an individual and bring us into alignment with our soul.
Why is this? If you think about it, we are bombarded with information every day that our minds must either believe, memorize, and somehow apply. Our authentic state, soul or higher self, has a direct, intuitive knowing that doesn't come from this information or thoughts triggered by the external world. This kind of 'knowing' comes from within. When we have moments where our 'everyday mind' is out of the way, either through a psychic vision, spiritual experience, dream, or simply a quiet, meditative state, we come back in touch with this original 'inner knowing' or 'beingness.'
Some call this 'enlightenment.' According to my teacher, Adyashanti, and from my own direct experiences, true enlightenment is not something that can be learned, rather it's the 'unlearning' of all thoughts we've taken in.
Just beyond the thinking mind is an unending field of love and quiet beauty. One can lie down there, and live in eternity. This field cannot be seen by the mind, it cannot be known by the mind; it can only be felt and found with the heart ~ Robert Rabbin
Everyday thoughts are useful, as they enable us to remember things, like having to brush our teeth every day. But, too often, meaningless, negative thoughts cloud our ability to merge or to come home to our spiritual beingness and our natural state of joy resting in awareness. The only way to drop into this state is some form of spiritual practice. It can be as simple as just sitting quietly each day for at least 20 minutes, doing some gentle Yoga, taking walks in nature, taking up a creative hobby, or anything relaxing and recreational that brings one into the now..the present moment.
The mind is our servant, but when we allow it to take over thinking mostly about the past or the future, we have lost touch with our true spirituality, or spiritual self. Ponder this, before a thought comes in, and before words go out: what is it looking through your eyes out into the world? Who are you before you were given a name? The pure light of awareness beams through you in every moment in total perfection. One never needs to learn how to become more spiritual.

About The Author: Isadora

Known as The Psychic's Psychic, since 1998, Isadora has read for thousands all over the world, her impressive list including clients from the Obama administration, Fortune 500 CEO's and notable names in Hollywood. Her detailed (Gemini) accuracy is nothing short of astounding, with her ability to see people at the Soul Level and clearly answer questions on a wide range of subjects, from relationship matters, business decisions, to past lives, etc.—anything that requires clear answers and pin-point insight. She has the ability to identify hidden patterns that run beneath your current situation, providing you with information to positively change your future. If you'd like a reading with this compassionate, straight forward, laser-accurate and dedicated Psychic, you can find Isadora at PsychicAccess.com.


One Response to Seeking Spirituality